The Countdown to Commencement Has Begun for the Class of 2023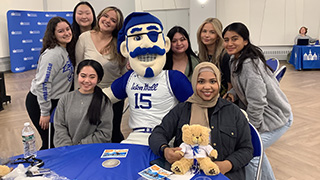 Last Monday, the Office of Student Engagement celebrated the final 56 days before commencement with the Class of 2023. The annual tradition of the Last 56 Days event was held on March 27th in the University Center Event Room for all senior status students.
The over 100 seniors in attendance had the opportunity to connect with campus partners like the Career Center and Student Alumni Association as they begin their journey to graduation. Ring vendors were available for students interested in commemorating their time as a Seton Hall student with a class ring. Other activities included music, free food, including Seton Hall blue decorated cupcakes, stuff a plush bears, Class of 2023 branded stickers, and a photo opportunity with the Pirate!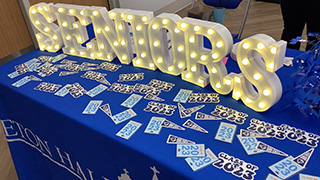 Seniors did not leave empty handed as all attendees had the chance to win a diploma frame or a piece of Seton Hall gear as they begin their transition into alumni members.
As the Class of 2023 continues the countdown until commencement, they can look forward to a variety of upcoming senior events which can be found on the Senior's webpage or Engage page.
Categories: Alumni, Campus Life