Cadets Train as Part of Task Force New Jersey
Cadets receive feedback on their tactical skills.
From April 14-16, Seton Hall's Army ROTC Pirate Battalion took part in a combined field training exercise (CFTX) at Fort Dix with Rutgers University and Princeton University. The CFTX is designed to be the culmination of the Military Science Leadership Lab for the semester, and to help prepare MSIIIs (juniors) for Cadet Summer Training at Fort Knox in Kentucky. This weekend is unique in the sense that it allowed cadets to work and train with their peers from around the state, enhancing the abilities, challenges, and possibilities beyond our familiar Pirate Battalion classmates.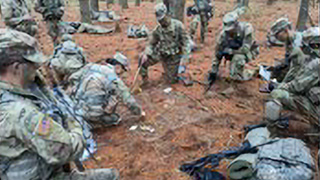 Cadets design their operations order.
The underclass cadets were assigned the mission of Opposing Forces (OPFOR), where they simulate the actions of a live enemy force, an important role to provide the best training environment for the primary training audience. By participating in this capacity, our freshman and sophomore cadets gain insight into what they will encounter as upperclassmen. Cadet Garret from the class of 2026 described it as "a full-field environment, I got to experience for the first time in my cadet career spending sixty hours in the woods without a bed, shower, or internet. It was awesome!"
Learning was the entire goal of the weekend, specifically for OPFOR. The design of the training is based on real-world scenarios for Cadets to experience in a tactical environment. Cadets learn about accountability, field craft, weapon discipline, and the use of terrain to cover and conceal their movements.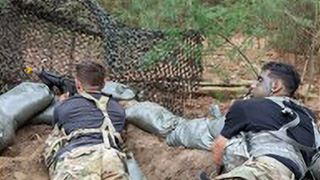 Underclass cadets as OPFOR use sandbags for defensive positions.
The guidance that cadre gave throughout the weekend was impactful. LTC Scher often spent time with the OPFOR, either guiding the MSIVs (Seniors) who were leading them, spreading tactical knowledge, or simply being a resource for anyone present. This along with everything else that happened helped them enjoy their time at this CFTX. The camaraderie among their peers, and the cool things cadets get to do remind them all the time of their purpose and helps motivate cadets to be all that they can be! MSI Cadet Garrett further explained, "Whenever I'm asked, I always tell people that ROTC is my favorite part of college. Although I don't normally spend my weekends not showering for three days, I would do it any time if it was with my friends in ROTC."
This CFTX with Rutgers and Princeton was an outstanding weekend and generated success for all who participated. The Pirate Battalion is excited to see their MSIII cadets perform at Cadet Summer Training this summer!
Categories: Campus Life, Nation and World