The Center for Sports Media Launches at Seton Hall with Alex Rodriguez
Tuesday, April 12th, 2022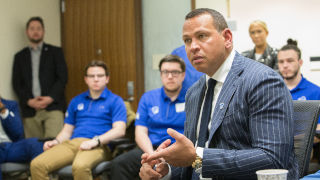 Alex Rodriguez speaking with Pirate Sports Network students.
On April 4, the Center for Sports Media launched its inaugural in-person Sports Media Speaker Series event. Entitled "Alex Rodriguez: Beyond Baseball," the event brought the MLB player, analyst, businessman, and professional sports team owner to campus for a day filled with conversation.
The main event hosted in Bethany Hall brought together Rodriguez, Bob Ley '76, and Bardia Shah-Rais '95 on stage for a discussion about baseball, sports broadcasting, and sports business. In total, over 400 people attended in person with hundreds of others tuning in virtually through the Pirate Sports Network live stream. On top of the main event, Rodriguez also took time to have smaller group sessions with student-athletes as well as students from the College of Communication and the Arts, Pirate Sports Network, Stillman School of Business, and the Buccino Leadership Institute.
"In all of the three smaller sessions Alex hosted, plus during the large session in Bethany Hall, it was obvious that our students took a great deal from his perspective and advice," Ley said about the event. "The day was magnificent — a meaningful in-person event on campus after two years and, for our Center, a tremendous way to begin our work."
Bardia Shah-Rais and B.J. Schecter echoed Ley's sentiments and described how impressive the event was and its importance for the Center for Sports Media's launch.
"What an event to kick off the Center for Sports Media. We couldn't have scripted it better." Schecter noted. "The whole day embodied everything we're trying to do with the Center — educating while bringing real-life experience and opportunities. We're off to a really good start."
Shah-Rais agreed, stating, "The event led by the tremendous leadership of Dr. Nyre; Bob Ley, and BJ Schecter was a monumental success. The wisdom Rodriguez imparted during his visit will be everlasting. This is hopefully just the beginning."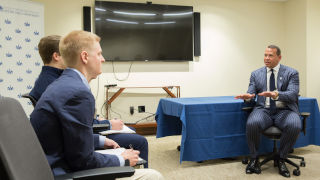 Alex Rodriguez speaking with Stillman and Buccino Leadership students.
The individual sessions that Rodriguez hosted were for around 20 students in each group from different schools at the University. In the session that kicked off the day, Rodriguez spoke to CommArts students and student-athletes about the valuable lessons that he has learned throughout his life. Rodriguez, along with Shah-Rais, then spoke to students in the Pirate Sports Network to discuss working in sports media and ended his day by speaking with Stillman and Buccino Leadership students about his business ventures, owning a professional sports team, and starting his own corporation.
The event and student sessions gave students the opportunity to learn from Rodriguez in his experience in sports media ventures and business. Rodriguez advised about "how to be present" in meetings, network with individuals, and how to stand out.
William Steck, a senior marketing and IT student attended the Stillman and Buccino Leadership session and was grateful for the opportunity to hear from Rodriguez. "This was a valuable opportunity for us to hear from one of today's most inspiring entrepreneurs," Steck stated. "The small group sessions allowed us to gain insight of the traits Alex looks for in emerging leaders while also being able to know what factors play into his decision-making process."
Along with students being able to talk one-on-one with Rodriguez, three CommArts seniors also worked with Rodriguez to create an introduction video for the main event. Rony Jerez, Christian Gardner, and Liam Plate collaborated with Rodriguez and Shah-Rais on the video. In addition to creating the video, they were also able to sit in on the smaller sessions with Rodriguez.
"Alex Rodriguez has always been one of my idols growing up and having the opportunity to work with him has been a dream come true," Jerez stated. "The introduction video came out better than I could have ever dreamed. He is an incredibly insightful person, which makes sitting down with him an invaluable experience."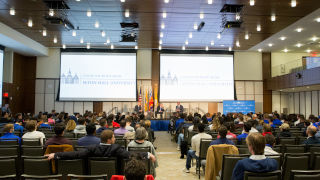 Photo of Beyond Baseball: Alex Rodriguez event.
If you missed Alex Rodriguez: Beyond Baseball, you can watch the video above for the full video of the event. You can also view past events on the Sports Media Speaker Series page.
About the Center for Sports Media
The Center for Sports Media redefines how students are trained in media, communications, sports business, engaging with the sports community, and producing groundbreaking content through University channels and partnerships with major media outlets.
Established in Fall 2021, the Center for Sports Media within the College of Communication and the Arts provides an interdisciplinary foundation for academic training and theory with practical experience pertinent to excellence in the Sports Media discipline.
Categories: Athletics