Seton Hall Students Engage with ESPN's Stephen A. Smith in an Exclusive Campus Discussion
Friday, September 8th, 2023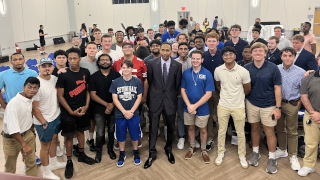 ESPN's Stephen A. Smith inspired Seton Hall students during an exclusive discussion on campus.
The newly renovated University Center experienced a whirlwind of excitement on September 7 as Stephen A. Smith, sports television personality and commentator/producer of ESPN's "First Take," graced the campus for a candid discussion. The event, attended by a select group of 75 students, offered an invaluable opportunity to gain insights from one of the most influential voices in sports media.
This noteworthy event was arranged by the Center for Sports Media within the College of Human Development, Culture, and Media. The occasion showcased the school in an unprecedented light and presented students with an invaluable opportunity to engage with a veteran in sports media.
Liana Cotto, a sophomore majoring in visual and sound media with a concentration in sports media, had the privilege of engaging Smith in a Q&A session. Reflecting on the experience, she said, "Getting to speak with Stephen A. Smith was very special to me. I've always watched him on ESPN, he's been someone that I've always admired. He's not afraid to voice his opinions. I hope to embrace that confidence someday."
It was not only a memorable experience for Cotto. Farnsworth Hendrickson, a junior in the same major, expressed his enthusiasm about the event. "It's my first time actually meeting a real celebrity sports broadcaster. The number of events and opportunities Seton Hall offers took me by surprise. It's enlightening to see how this university constantly brings such influential figures in sports media to campus."
Senior Mark Mincolelli, who is pursuing a major in Journalism with a minor in sports media, remarked on the significance of Smith's presence. "Having a speaker of the caliber of Stephen A. Smith at Seton Hall is monumental. His insights and journey give us a clear picture of the dedication required to reach the pinnacle in any industry. I'm grateful to Seton Hall and the Center for Sports Media for such a wonderful experience."
The Center's Executive Director Jane McManus highlighted the importance of such events in the educational journey. "Stephen A. Smith generates headlines and is one of the most visible people in sports media," she said. "There are critiques of the debate-style format he has honed, but Smith engaged our students as a person and a storyteller, and directly addressed his place in the industry."
Seton Hall's commitment to providing its students with access to prominent figures in the sports industry doesn't end with Stephen A. Smith. The month of September is proving to be stellar for sports enthusiasts on campus.
On Tuesday, September 12, at 2 p.m., the Center is thrilled to welcome Kenny Albert, a versatile five-sport broadcaster known for his comprehensive sports coverage. He will be presenting on "Calling the Game, Kenny Albert on versatility," which will take place in the Walsh Library, Beck Room A, B, and C. Register here for this event.
Then, on Thursday, September 28, at 2 p.m., the University Center Theatre will host Peter King, a renowned NFL writer, NBC reporter and analyst and the iconic founder of Sports Illustrated's "Monday Morning Quarterback." King will delve into the nuances of "Covering the NFL 101," offering students a deep dive into the world of professional football journalism. Register here for this event.
"With Smith, King and Albert, and Billie Jean King and Ilana Kloss last semester, we are using these events to illuminate different skills and roles through the people who best understand them," added McManus.
About Seton Hall's Center for Sports Media
The Center for Sports Media within the College of Human Development, Culture, and Media redefines how students are trained in media, communications, sports business, engaging with the sports community, and producing groundbreaking content through University channels and partnerships with major media outlets. Established in Fall 2021, the Center for Sports Media provides an interdisciplinary foundation for academic training and theory with practical experience pertinent to excellence in the Sports Media discipline.
Categories: Campus Life