Center for Sports Media's Jane McManus Featured on CNN, NPR, and Fox
Tuesday, September 19th, 2023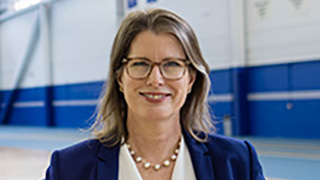 Jane McManus, M.S., Executive Director, Center for Sports Media
As a thought leader in women's sports, Jane McManus, executive director of the Center for Sports Media in the College of Human Development, Culture, and Media, was featured on three top media outlets — CNN, NPR and NY Fox 5 — within a one-week period.
On September 2nd, McManus was interviewed by CNN's Correspondents Victor Blackwell and Amara Walker on CNN This Morning Weekend.
They discussed the growth of women's sports and the record-breaking women's college volleyball match held in Nebraska on August 30 which witnessed more than 92,000 fans pack the University of Nebraska's Memorial Stadium.
McManus, who is also a sports columnist for Deadspin, said, "I think when you see what Nebraska did by putting volleyball in Memorial Stadium, the home of Cornhuskers football, it shows what can happen if you build these kinds of events around women's sports."
She added, "They are growing in popularity. Viewership is up. You had nearly 10 million viewers for the NCAA women's final last year on ABC. When ESPN decided to put that game on ABC, it really lifted the ceiling on who could be watching that game. And you are finding that all over the place. You are breaking records at the Women's World Cup in Australia and New Zealand this year. The first rounds of the NCAA Women's Tournament are breaking records year after year. People are showing up for these events."
Providing her own insights, McManus explained:
I think you are seeing creative investments in the space around women's sports right now. There's a real acknowledgement that the return on investment is very high and that the ceiling is very high for these. You now have a professional women's hockey league which has just announced that it's going to begin playing. Ratings are up for both softball and volleyball, in addition to women's basketball in terms of ratings. That's going to bring sponsorships, that's going to bring investment. The people who are putting these things on — the gatekeepers, the administrators — must realize what a goldmine they have here in a lot of these women's events that haven't been promoted.
On NPR's "All Things Considered," hosted by Ari Shapiro on August 31st, McManus was also asked to reflect on the significance of the Nebraska women's college volleyball game. "We're at a place now culturally where we're reevaluating how much we value women's sports. Seeing things like this, it's 'if you build it, they will come,'" she said. "Those are still valuable markets that can be developed and monetized but also used for the same sorts of things that Nebraska football is used for, which is building community, bringing people together, having a point of pride for the college, sparking recruitment."
Then on September 3rd, McManus appeared on NY Fox 5 with Jen X. Williams and Tina Cervasio. They discussed the U.S Women's Open which featured ten players in the women's draw who recently had children and continued their careers and the revolution in understanding how to achieve peak athletic fitness. McManus expressed her views on how the public has been privileged to witness excellent athletes who didn't let the conventional notion that having a family stops them from returning to playing tennis professionally. As an example, she shared Serena Williams' incredible feat of achieving three Grand Slam finals after having her first daughter.
MacManus's interviews have appeared in numerous media outlets, including Newsday, The New York Times, and USA Today. She has been a guest on Good Morning America, CNN, and NPR's Morning Edition.
About Seton Hall's Center for Sports Media
The Center for Sports Media within the College of Human Development, Culture, and Media redefines how students are trained in media, communications, sports business, engaging with the sports community, and producing groundbreaking content through university channels and partnerships with major media outlets. Established in Fall 2021, the Center for Sports Media provides an interdisciplinary foundation for academic training and theory with practical experience pertinent to excellence in the Sports Media discipline.
Categories: Athletics