Graduate Online Nursing Programs Again Rank Best in NJ, Top 20 Percent in Nation
Tuesday, January 24th, 2023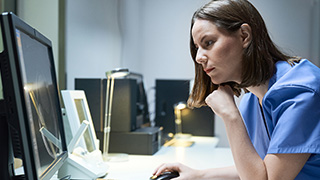 U.S. News and World Report has once again recognized Seton Hall University as having the top programs in the nation for its Online Graduate Nursing Programs.
This year the programs were ranked 33rd in the nation out of 203 programs at colleges and universities across the United States that met the criteria for inclusion. Placing 33rd out of 203 programs in the U.S. News ranking puts Seton Hall in the Top 16 percent of all programs in the nation, 4th among all Catholic colleges and universities and makes it, again, the top-ranked program in New Jersey.
For the past four years, Seton Hall's College of Nursing has been recognized as having top-ranked online graduate nursing programs in New Jersey and among the Top 20 percent of all programs nationwide.
"We are honored to be recognized again as one of the nation's best online nursing programs," said College of Nursing Dean Marie Foley, Ph.D., R.N. "We are New Jersey's oldest College of Nursing and its best and our online master's degree program has begun to receive the recognition it deserves. Personalized, convenient for working professionals, and led by world-class faculty, it has made the next career step possible for scores of nurses who might not otherwise have the opportunity to get a graduate degree."
In 2022, in its most recent ranking of undergraduate nursing programs, U.S. News & World Report ranked Seton Hall's College of Nursing at 51 in the nation – having ranked a total of 681 undergraduate Nursing programs across the United States. That ranking at 51 places Seton Hall among the top 7 percent of all programs nationally – and No.1 in New Jersey.
Among Catholic colleges and universities, Seton Hall's undergraduate Nursing program ranked Top 5 in the nation – tied for the honor with three other schools.
U.S. News & World Report's 2022 Best Nursing Schools guide also highly ranked the College of Nursing's Master of Science in Nursing (M.S.N.) and Doctor of Nursing (D.N.P.) programs, marking them as top programs in New Jersey.
For the 2023 Online Graduate Nursing Program ranking, U.S. News notes that:
"A master's degree in nursing can pave the way for more advanced roles in administration, practice and leadership. For the 2023 edition of Best Online Master's in Nursing Programs, U.S. News ranked schools using five categories."
Here is the criteria, relative weights and underlying rationale for the U.S. News methodology utilized for Online Graduate Nursing Programs by U.S. News & World Report:
Engagement (30%): In a quality program, aspiring advanced practice nurses can readily collaborate with fellow students in their classes and clinical settings. In turn, instructors are not only accessible and responsive, but they are also tasked with helping create an experience rewarding enough for students to stay enrolled and complete their degrees in a reasonable amount of time.
Faculty Credentials and Training (20%): Strong online nursing programs employ instructors with academic credentials that mirror those of instructors for campus-based programs, and they have the resources to train these instructors to teach distance learners.
Peer Assessment (20%): A survey of high-ranking academic officials in nursing helps account for intangible factors affecting program quality that statistics do not capture. Also, employers may hold in high regard degrees from programs that academics respect.
Services and Technologies (20%): Programs that incorporate diverse online learning technologies allow greater flexibility for students to take classes from a distance. Outside of classes, strong support structures provide learning 1 assistance, career guidance and financial aid resources commensurate with quality campus-based programs.
Student Excellence (10%): Student bodies entering with proven aptitudes, ambitions and accomplishments can handle the demands of rigorous coursework. Furthermore, online degrees that schools award judiciously can have greater legitimacy in the job market.
Categories: Education, Health and Medicine