Thursday, December 17, 2020
Clinical Assistant Professor Moira Kendra was one of the first University faculty members to receive the COVID-19 vaccine.
On the morning of Wednesday, December 16, at Morristown Medical Center (MMC), Moira E Kendra, DNP, MA, RN, ACNP-BC, a clinical assistant professor in Seton Hall's College of Nursing, was one of the first University faculty members to receive the eagerly awaited COVID-19 vaccine. Also a Seton Hall alumna, Kendra is an Acute Care Pulmonary APN at MMC.
"Today, history was made by the United States, New Jersey and Morristown Medical Center with the first COVID-19 vaccinations administered," said Kendra. "Seton Hall's Acute Care faculty were the first providers in line recognizing this global problem and this important global response. As acute care faculty, we are on the front line in COVID ICUs and step-down units responding to the virus," she said. "Today, we stepped up to be among the first to accept the vaccination to contribute to decreasing the healthcare burden we have witnessed as a result of this deadly virus."
As we are all aware, COVID-19 cases, hospitalizations and deaths across the United States are rising.  As of this writing, there are more than 16,500,000 total cases and have been more than 300,000 deaths from COVID-19 in the U.S., per the Centers for Disease Control and Prevention website. When interviewed about her experiences last spring, Kendra relayed just how bad it was at the hospital.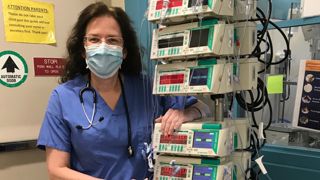 Moira Kendra in Morristown Medical Center's locked-down COVID-19 ICU, which was created in 48 hours in March 2020 to accommodate the surge in the COVID admission.
"I have been practicing for 32 years at Atlantic Health System and I have never seen the severity of a virus such as the COVID 19," she said. "This virus is quick, and the patients require acute care provided by nurses who have been trained well. The severity of the illness on my patients is shocking not just for me but for all my colleagues." 
Last spring, Kendra showed she was a true servant leader when asked to assist with the implementation of a newly converted COVID-positive ICU to accommodate the surge in the admissions. "Because of my skill set in critical care, I did not hesitate with this request. What I did was an excellent example of nursing servant leadership by implementing a COVID-positive ICU where one never existed before. We accomplished our goal: to admit 18 critically ill patients who were COVID-positive in 48 hours."
Kendra, who was a finalist for this year's March of Dimes Annual Nurse of the Year awards, has been a full-time faculty member since 2016 and earned her D.N.P. from Seton Hall in 2017. "Seton Hall's emphasis on practice-based education and working with patients while still in school helped prepare me for a role on the frontlines of response to the pandemic," she said. "I feel blessed to have received my D.N.P. under the guidance of professors such as Dr. Mary Ellen Roberts because we need nurses who are thinking globally at the bedside."
Program Director Mary Ellen Roberts, D.N.P., R.N., A.P.N.C., FNAP, FAANP, FAAN asserted that Seton Hall's DNP program as well as its Acute Care Nurse Practitioner program give graduates the skills needed to provide care in a global society. "DNPs and particularly nurse practitioners are global thinkers who are at the forefront of changing healthcare," she said. "These expert healthcare providers are improving the quality of care to our patients and are making a difference." 
She added, "I am particularly proud of our NP faculty and the work that Dr. Kendra has done during this most stressful time." 
Categories: Alumni , Health and Medicine , Nation and World