Nursing Associate Professor Receives Prestigious Legacy Award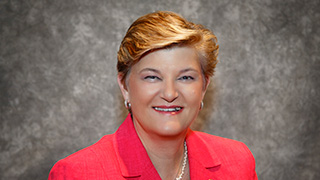 The Fellows of the American Association of Nurse Practitioners (FAANP) have honored College of Nursing Associate Professor Mary Ellen Roberts, D.N.P., R.N., APNC, FNAP, FAAN, FAANP, with a 2023 Legacy Award for her contributions to health care and the nurse practitioner role.
The FAANP Legacy Award is a prestigious honor that recognizes a member of FAANP who has made a profound and lasting impact on the nurse practitioner profession. It memorializes an individual whose life's work has articulated a dream that others share and follow. The award is reserved for those whose vision, innovation, courage, persistence, and inspiration have left an indelible mark on the field.
"The recipients of the 2023 FAANP Awards are truly legendary nurse practitioners (NPs) who have made an indelible impact on health care through their diligent and enduring efforts to advance the NP role," said AANP President April N. Kapu, D.N.P., APRN, ACNP-BC, FAANP, FCCM, FAAN. "They are leaders of the highest caliber whose contributions will not be forgotten."
"I was very surprised, humbled, and excited," said Roberts said upon learning of the award. "Advancing the role of the NP has been a passion of mine for over 30 years."
Roberts is a widely respected expert, known for her talents in patient care, nursing education and research, and professional service. For over three decades, she has worked tirelessly to advance the nurse practitioner profession, advocating for change and leadership development. She has served as the President of AANP, the FAANP Chair, and the Chair of the American Academy of Nurse Practitioners Certification Board. In 2016, Roberts received the Towers Pinnacle Award, recognizing her outstanding contributions to the field.
In her work as an Adult and Acute Care Nurse Practitioner with Atlantic Health Systems, Roberts has focused her expertise on women and heart disease, hypertension, lipids, and acute coronary syndrome. She has also conducted broad research programs, with a particular interest in advancing the role of nurse practitioners in today's healthcare environment. Her research examines the needs of nurse practitioner preceptors and explores the frontline impact of COVID-19 on students, patients, and nurses.
Roberts has routinely influenced the nurse practitioner profession, having authored seminal papers on the Doctor of Nursing Practice and served as a member of the National Task Force on Quality of Nurse Practitioner Education. "I was with President Obama in 2009 when he called on Congress for the up/down vote for the Affordable Care Act. Being at the table to see the legislature move forward the nurse practitioner role," she reflected.
Having contributed to the development of various scope and standards of practice that have impacted nearly every NP in the U.S., Roberts acknowledges the challenges facing nurse practitioners today. "Full Practice authority (FPA) for nurse practitioners is our biggest hurdle right now. We currently have only 26 states with FPA; legislation in all states must look at the work NPs are doing for their patients. During the COVID-19 public health emergency most states suspended the collaboration agreements needed to practice. It worked and NPs cared for patients without any untoward effects. In fact, malpractice cases went down."
Roberts is also an esteemed scholar and educator, serving on editorial boards for the Journal of the American Association of Nurse Practitioners and the Internet Journal of Advanced Nursing Practice. She is a sought-after lecturer both nationally and internationally, having given over 50 lectures and authored more than 53 articles on advancing NP science.
As a Fellow of the American Association of Nurse Practitioners, the American Academy of Nursing, and the National Academies of Practice, Roberts is recognized as a leader in her field. She has also served as the Past Chair of the Fellows of the American Association of Nurse Practitioners and sat on the planning committee for the American Academy of Nursing annual conference.
"We are thrilled to see Dr. Roberts receive the FAANP Legacy Award, which is a testament to her unwavering commitment to advancing the nurse practitioner profession," said Marie Foley, Ph.D., dean of the College of Nursing. "Her immeasurable contributions to healthcare, nursing education and research, and professional service have set the standard for excellence in our field. We are proud to have her as a member of our faculty and as a leader in the nursing community."
Regarding how she balances her work as a nurse practitioner with her role as an educator and researcher, Roberts said, "The key is to set priorities and practice time management. I work as a nurse practitioner one day a week which keeps my clinical skills sharp, but also keeps me on the frontlines of new and innovative care management. I also believe that faculty teaching in NP programs are respected by their students when they are working clinically."
She added, "However, the biggest factor is the support I have from my family, friends and colleagues. My husband and three children have been my rock and biggest supporters. I could not have done any of this without them."
Roberts will be recognized for her contributions to the nurse practitioner profession at the FAANP induction ceremony on June 22, 2023.
Categories: Education, Health and Medicine