Integrity House and College of Nursing Partner to Combat Opioid Epidemic
Thursday, June 29th, 2023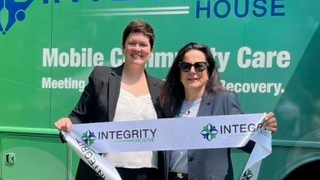 Integrity House Project Director Katie Tracy and Associate Dean Kathleen Neville celebrated the ribbon cutting of the new mobile unit designed to treat individuals with opioid-use disorders in Newark neighborhoods.
Associate Dean of Graduate Studies and Research Kathleen Neville, Ph.D., R.N., FAAN is leading the second Substance Abuse and Mental Health Services Administration (SAMHSA) Interprofessional grant received by the College of Nursing, addressing the opioid epidemic. The aim of this grant is to increase the number of nurse practitioner (NP) and physician assistant (PA) students at both Seton Hall and Monmouth Universities plus medical (MD) students at Hackensack Meridian School of Medicine who receive training in prescribing medication-assisted treatment to individuals with opioid-use disorders.
Through this grant, students receive an approved interprofessional curriculum and training program. Moreover, this three-year SAMHSA project also seeks to tackle health disparities and social determinants of health among underserved and vulnerable populations in Newark, where high mortality rates result from overdoses.
Integrity House, a 501(c) 3 nonprofit with headquarters in Newark, NJ, has partnered with Seton Hall's College of Nursing and School of Health and Medical Sciences since last year, providing excellent clinical placements for their NP and PA students, including Monmouth University's NP and PA students.
Integrity House has had the mission of helping individuals and families through comprehensive addiction and mental health treatment and recovery for 55 years. Under the direction of Katie Tracy, MSW, LCSW, project director at Integrity House, students gain firsthand experience in diagnosing, treating, and supporting the recovery of patients with opioid-use disorders. Throughout their day-long experience, students interact with patients and collaborate with administrators and clinicians to gain valuable insight and awareness of the challenges associated with recovery.
To date, over 75 students from both universities have participated in their clinical experience, during which they gained valuable knowledge and skills. By the end of the program, students were able to discuss the role of medication-assisted treatment (MAT) for patients with opioid use disorders (OUDs) and substance abuse disorders (SUDs). They also learned to compare different medications used for MAT and opioid withdrawal, considering factors such as drug dosage and side effects. Additionally, students were equipped to select appropriate clinical pathways for implementing MAT in patients with OUDs and SUDs. They learned to develop comprehensive treatment plans that integrate MAT with behavioral and counseling interventions for these patients. Lastly, the students acquired knowledge of safe prescriptive practices, particularly regarding buprenorphine, for the treatment of individuals with OUDs and SUDs.
As the opioid epidemic continues to worsen with the emergence of synthetic opioids and other adulterants, Integrity House has elevated its community outreach efforts through its newest program -Mobile Community Care (MCC). In May, a ribbon-cutting ceremony took place, unveiling a brand-new mobile unit the Integrity House MCC team will use to travel to targeted areas in Newark and provide services to those who need it most.
"The College of Nursing is most appreciative of the opportunities provided to our students by Integrity House," said Neville. "Students have reported highly favorable experiences at Integrity House, where they work alongside knowledgeable and compassionate healthcare providers who are eager to share their expertise."
Categories: Health and Medicine