'Baptism by Fire,' A First-Year Nurse Reports from the Front Lines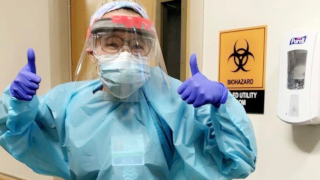 Erin Rose, B.S.N. '19 works at Jersey Shore University Medical Center in a cardiac unit that is now part of a COVID-positive floor at the hospital.
Erin Rose, who graduated in May 2019 from the Accelerated B.S.N. program, now works on Mehandru 5, a telemetry/cardiac step-down floor at Jersey Shore University Medical Center. As of last month, though, that unit is no longer taking true cardiac patients as it's now a designated COVID positive floor at the hospital.
"'Baptism by fire' could not more perfectly describe my experiences right now," said Erin Rose via an email interview with Seton Hall. "I knew being a new nurse would be difficult, and really… being a new nurse is tough. But on top of just beginning my nursing career, a novel virus has shaken the world. This pandemic is a new experience for everyone; we are all unsure of how to properly approach this battle and we all are learning new things every day."
Erin recalls only a month ago when her floor only had a few COVID patients. "My amazing preceptor Johana would be the brave nurse to go into the patient's room while I stayed outside of the room, ready to get her what she needed." But it wasn't long before Erin felt she should take some of the burden off Johana, especially since she has to care for her family at home.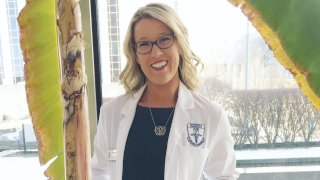 "This is exactly the right place and right time that God intended for me to be here," said Erin. "I couldn't be more thankful and excited about where I'm at, despite this COVID-19 pandemic."
"The first time I went into a COVID-positive patient's room a few weeks ago, I was almost numb because I wasn't thinking about myself," Erin recalled. "When you go into these patient rooms you only see a person, you don't see this big bad virus. You see a patient that is scared, alone and needs someone to treat them like a person and not a viral host."
A Strong Beginning
Erin has been no stranger to tackling difficult situations. While still a student at Seton Hall, during her first clinical day at Ocean Medical Center, a nurse asked her to help check on a patient that had MRSA (methicillin resistant staphylococcus aureus), a serious, antibiotic-resistant infection.
Since beginning her nursing degree at Seton Hall, "I have been exposed to different hospitals and hundreds of patients with a plethora of diseases or injuries," said Erin. "Half of the battle of becoming a new nurse is familiarizing yourself with the new environment and knowing which equipment to grab for the needed jobs."
In the Accelerated B.S.N. in Nursing program, Erin needed to learn an "unbelievable amount of knowledge" in only 14 months and wondered how she would be able to retain all of it. She admits that she really surprised herself. "When COVID patients ask me questions pertaining to their oxygenation, I am able to rattle off facts about how the infiltrates seen on the chest x-rays are causing them to exhibit a lack of oxygen, which is seen through their hyperventilation. So, they need to take slow, deep breaths and practice their incentive spirometers often."
She credits her Seton Hall professors with instilling in her a sound foundation in proper techniques and procedures, and what needs to be done for patients in different medical circumstances. "Knowledge is truly power so having Seton Hall provide me with medical knowledge has been a blessing." Erin did admit, "It is a whole new ball game when it is your real-life patient barely breathing and the real-life rapid response team comes running to your aide."
Considering the current pandemic, perhaps one of the most important lessons for her at Seton Hall was learning about applying PPE (personal protective equipment) for isolation rooms. "Only minor alterations were needed for the COVID PPE that I use on my floor," she said. "As clinical students, we became aware of each type of isolation and the means of transmission for the virus or bacteria involved, so in real life I was not bewildered by my colleagues saying, 'The virus is transmitted through droplets, so the patients are on droplet precautions but we are treating it as airborne precaution for further protection.'"
Though it was not long ago that Erin was a student herself, she is able to offer sage advice for current College of Nursing students. "Trust in the knowledge provided by your professors," she said. "While it is going to take time before you are comfortable being a nurse, trust that Seton Hall prepared us with knowledge—and that knowledge is the greatest tool in our arsenal."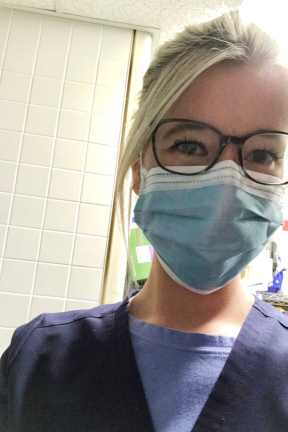 On the Front Lines
The 38-bed unit Erin works in is now entirely filled with COVID-positive patients. "I go into patient's room just like every other brave nurse on the floor," she said. "The nurses I work with tackle new obstacles with such grace and confidence; while they are all scared, they don't show any hesitance when caring for COVID patients."
Erin is thankful for the support of all the RNs she works with and is grateful to be on their team. "One of the best qualities of the people that work on Mehandru 5 at Jersey Shore is their ability to remain so lighthearted in times of turmoil," she said. "Every person comes to work with optimism and a smile — their confident demeanor is contagious and most likely contributes to why I am rarely not willing to put myself in harm's way for patients."
Putting it all into perspective, she said, "This is exactly the right place and right time that God intended for me to be here. I couldn't be more thankful and excited about where I'm at, despite this COVID-19 pandemic."
Categories: Health and Medicine, Research