College of Nursing Receives $85K from The Healthcare Foundation of New Jersey
Thursday, April 13th, 2023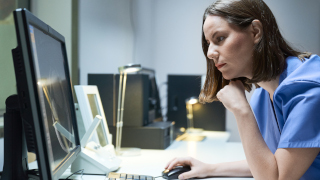 The College of Nursing has received a second grant from the Healthcare Foundation of New Jersey, "Expansion of the Seton Hall University College of Nursing Online Nurse Practitioner Curriculum Using Innovations in Simulation." The project's focus is to further expand nurse practitioner students' education using online simulation and new telehealth technology to augment online nursing programs.
As the complexity of healthcare delivery increases, telehealth is becoming an essential communication modality for both inpatient and outpatient nursing care. This second grant funded by the Healthcare Foundation of New Jersey will support the research of Associate Professor of Nursing Joyce L. Maglione, Ph.D., ANP-BC, FNAP and Associate Dean of Graduate Study and Research Kathleen Neville, Ph.D., R.N., FAAN in advancing the educational preparation of Nurse Practitioner (NP) students and preparing them to meet the national NP core competencies.
The project is designed to use new, innovative virtual simulations with the i-Human Patient Product simulation and telehealth technology to enhance online graduate programs, including remote opportunities for technological skills, practice diagnostic skills, decision-making and clinical reasoning in a simulated environment. Students will have the opportunity to work with standardized patients that are trained to act as a patient in a simulated telehealth patient-nurse practitioner scenario. Telehealth is an essential delivery method and a logical approach for the advancement of students' technological skills. This grant will also provide equipment to facilitate advanced nurse practice training. The over-arching goal of this grant is to expand technological innovations, increase student preparation and meet national nurse practitioner core competencies. This one year grant will begin July 1, 2023.
Categories: Education, Health and Medicine