A Love of Science Begins Student's New Path to Becoming a Nurse
Wednesday, September 16th, 2020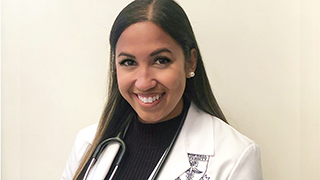 Jasmine Ahmed is a current student in Seton Hall's Accelerated B.S.N. program, graduating this fall.
Sometimes the journey to becoming a nurse is a lifelong dream. For others, it starts with a spark, an idea of loving a field of study, but an uncertainty on how to apply that passion to a particular profession.
Jasmine Ahmed, a current student in Seton Hall's Accelerated B.S.N. program, knew in high school that she wanted to pursue a science-related career. After earning a B.S. in Forensic Science plus a minor in Biology with an emphasis on Genetics from Rutgers University-New Brunswick, she obtained employment at Memorial Sloan Kettering Cancer Center. First, she served as an office coordinator in the Thoracic Oncology department, where she coordinated patient care, clinical trials and protocols, all while working within an interprofessional team. Then she went on to work as a lab assistant, analyzing DNA using such methods and techniques as Polymerase chain reaction (PCR), Western blotting and genetic testing.
After two years of working, Ahmed decide she wanted to go back to school but was unsure which field to pursue. "I knew I wanted more hands-on experience with patients. I would see how dedicated the doctors and nurses were, and that is when I started to obtain an interest in nursing," she said. "I started shadowing Nurse Practitioners, both inpatient and outpatient, just to get a feel of the role. I was more than surprised to learn about all of the different types of nursing and all the specialties you can go into."
Ahmed acknowledged that going back to school as an adult learner can be difficult and having a strong support system is crucial. "All of the doctors and nurses at my job were more than ecstatic that I decided to go back to school. The support system that I had, both professionally and personally, was remarkable. Both of my parents were extremely supportive, as were my friends. This is what helped solidify my decision to go back to school for nursing," she said.
When she started applying to nursing schools, Ahmed admitted, "Seton Hall University caught my eye immediately. The College of Nursing's mission regarding innovation and aspiring nurse leaders is what attracted me to the program. The nursing profession is consistently evolving and requires culturally competent, innovative leaders, such as those made at Seton Hall."
Because of the accelerated nature of second-degree B.S.N. programs, students must complete certain program prerequisites prior to starting classes. Having an undergraduate degree grounded in the sciences not only helped Ahmed complete the prerequisite requirements for Seton Hall's program but prepared her for the course material. "Coming into this program with medical experience helped tremendously, plus the prerequisites that were required were more than helpful in regard to navigating the new material," she said. "When you enroll in a second-degree program, you are expected to already know certain things, especially medicine. Having taken courses such as Anatomy and Microbiology instilled a solid foundation of the fundamentals which I was able to utilize during this program."
Seton Hall's Accelerated B.S.N. program allows students to graduate with a B.S.N. in just 14 months. This fast pace could be a cause for concern for some, however Ahmed found the course content very organized and was able to transition easily from each course to the next. "While having a heavy course load during a semester can be difficult, this program helped frame my communication skills, sense of compassion, and knowledge in the field," said Ahmed. "I have learned such a great deal of information that I will carry on with me throughout my nursing career. Plus, the professors genuinely want you to succeed and help you throughout any obstacle you may face, while also challenging you daily with new information and tools."
Ahmed is graduating from the Accelerated B.S.N. program this fall and plans on going back to work at Memorial Sloan Kettering Cancer Center after graduation. "Cancer has always been an interest of mine and I would love to help patients fight their battle," she said. "I plan to go back for my Doctor of Nursing Practice (DNP) degree in the next few years, but I am unsure of my specialty as of now. I am interested in both Pediatrics and ER/ICU for Geriatrics. After some experience in the field, I hope to make a definitive decision on my specialty and finally settle into the wonderful world of nursing!"
Ahmed is very happy with her decision to go into the nursing profession, claiming it was "one of the best decisions I have made thus far." She advised those considering this field that "this type of career change requires commitment, so this should be your true passion and calling. If you have the dedication and drive, you can succeed and fulfill any dream. Though it may be tough in the interim, becoming a nurse is 100 percent worth it in the end."
"I am more than humbled to have been a part of such a high-caliber program," she added. "Seton Hall has given me the opportunity to continue to learn and grow."
Categories: Education, Health and Medicine