Seton Hall Places in Top 35 Percent of National Universities According to U.S. News
Monday, September 18th, 2023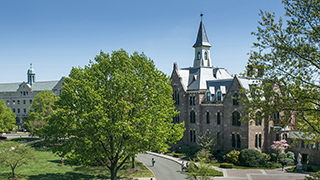 On September 18, U.S. News & World Report released its annual guide, with Seton Hall continuing to be highly ranked among the 10% of all schools and colleges that are designated as "National Universities." The latest Report saw major changes in how the ranking is configured, along with significant changes in its methodology.
The "National Universities" category used in the U.S. News & World Report rankings is derived from the list of Carnegie Classifications. Seton Hall is designated as a "High Research Activity" institution, placing it among Doctoral Universities in the Carnegie Classification, and thus, one of the National Universities in the U.S. News & World Report rankings. Listed at #151 and tied with 11 other universities, Seton Hall is among the Top 35 percent of all National Universities.
In recent years, Seton Hall has repeatedly broken records for applications, enrollment, High School GPA, SAT and ACT scores – all metrics that contribute to a school's U.S. News ranking. Seton Hall's "Peer Ranking," which measures the assessment of the University by top-level academics from other schools, has again been "graded" at 3.0, steadily having risen over the last several years by 10%.
The Class of 2027 continues the upward trend for Seton Hall over the last decade, with the University experiencing an overall increase in applicants as well as class size and a strengthening of academic credentials.  This upward trajectory for Seton Hall has occurred despite demographic declines in the number of college-age students in the United States and the downturn in enrollment experienced by many other private universities in the state and in colleges and universities across the nation overall. Nationally, undergraduate enrollment has declined by 15 percent over the last decade; at Seton Hall enrollment has increased by 19 percent.
"We are proud of the top-tier Catholic education Seton Hall delivers to its students year after year," said Katia Passerini, Ph.D., Interim President. "External recognition of the University's excellence is worth noting. Far more important than rankings, however, are statistics that reflect Seton Hall's indisputable value. They include our post-graduation employment rate, which is nearly 99 percent; graduate school acceptance rate at 98 percent; and mid-career earnings that are 50 percent higher than the national average."
The U.S. News & World Report ranking is one of many that place Seton Hall among the best colleges in the nation.
Seton Hall Highly Rated in Rankings That Measure Outcomes
Seton Hall regularly meets or surpasses rankings that measure student and alumni outcomes.
Seton Hall University was again recognized as one of the Top Colleges in America by The Princeton Review; this is the 28th year Seton Hall has been ranked as one of the nation's best institutions for undergraduate education by The Princeton Review. The University is featured in the 2024 edition of the education services company's annual college guide, "The Best 389 Colleges."
Being listed in the "Best Colleges" guide again puts Seton Hall University among an elite group of colleges and universities. Less than 15 percent of the four-year colleges and universities in the U.S. are named to the list. The Princeton Review rankings are based on surveys of 165,000 students who are asked about their school's academics, administration, student body and themselves.
Seton Hall is also regularly recognized as a "Best College for your Money" by Money magazine; and a Forbes "Top College in America."
Seton Hall's employment rate for 2022 is 98.5 percent and its graduate school acceptance rate was 98 percent.
ROI
A recent independent study from Georgetown University's University Center on Education and the Workforce ranked 1700 public and private colleges and universities in the United States (that primarily confer bachelor's degrees) for return on investment throughout a graduate's workforce career.
The Georgetown research found that Seton Hall alumni can expect to reap an additional $1.4 million in earnings during their career by virtue of their degree, which placed the University at 175 among the 1700 schools – the Top 10 percent nationally.
Last year, Seton Hall awarded a record-breaking $158 million in scholarships for Fiscal Year 2023. This year, the University awarded more than $169 million in scholarships to students. A staggering 98 percent of its student body benefits from some form of financial aid, with 97 percent receiving scholarships or grants.
Additionally, in research conducted by PayScale Inc., Seton Hall was ranked among the Top 12% of colleges in America for the mid-career salary ($103,800) of its alumni.
Seton Hall Among Nation's Most Trusted Universities
Seton Hall was recently recognized as one of the "Most Trusted Universities" in a recent nationwide survey conducted by Morning Consult, a decision intelligence company that defined trust as the belief that an institution will do the right thing. Seton Hall ranked #36 among all universities nationally, sixth among Catholic universities nationally and second only to Princeton in New Jersey.
Categories: Campus Life, Education, Nation and World, Research