Seton Hall Law Professor Awarded Prestigious Fulbright Scholarship
Thursday, July 13th, 2023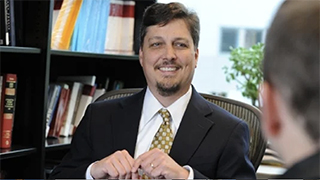 David Opderbeck, Ph.D., a professor of law and co-director of the Gibbons Institute of Law, Science & Technology and the Institute for Privacy Protection at Seton Hall University Law School, has received a Fulbright U.S. Scholar Program award for the 2023-2024 academic year from the U.S. Department of State and the Fulbright Foreign Scholarship Board. His project, "Artificial Intelligence, Privacy, and Security," will investigate regional differences in AI regulations and their impact on privacy and security. Colleagues at the Haifa Center for Law and Technology (HCLT), Israel, will join him on the project.
AI is a transformative technology that presents both opportunities and challenges in the realms of data privacy and security policy. As AI systems rely on vast datasets for training, the reasons behind their decisions can become obscure. "Distinguishing between human interactions and AI interactions can be difficult, raising concerns about transparency and accountability," explained Opderbeck. "Furthermore, when AI is employed in sensitive capacities such as intelligence-gathering or military operations, there is a risk of uncontrolled escalation."
Recognizing the importance of accountability, transparency, fairness, safety, reliability, and privacy in the development, deployment, and governance of AI systems, scholars and practitioners in AI law and policy have called for robust frameworks. Opderbeck continued, "Despite the advancements made in leading technological countries like the United States and Israel, there is still a lack of a national AI governance structure in these nations. Furthermore, international coordination on AI-related matters remains insufficient."
Opderbeck's research project aims to bridge this gap in existing legal scholarship on AI. While previous studies have predominantly focused on specific issues such as bias, liability, and accountability, Opderbeck's work will take a comparative and international approach. By examining the varying AI law and policy landscapes across different regions, he seeks to develop comprehensive frameworks that address the privacy, civil liberties, and global security challenges posed by AI.
Israel, renowned for its technological research and development, has published a national AI strategy titled the National Initiative for Secured Intelligent Systems. The United States, on the other hand, has enacted several laws and established government institutions related to AI development but lacks a unified national AI governance structure. The European Union recently proposed the Artificial Intelligence Act, which would be the first worldwide attempt at horizontal regulation of AI. These initiatives and regulations serve as important reference points for Opderbeck's comparative analysis.
As a Fulbright Scholar, Opderbeck will collaborate with colleagues at HCLT, which provides an ideal environment for studying perspectives on AI law and policy. Given Israel's status as a thriving hub of technological innovation and a vital ally of the United States, the insights gained from this collaboration will contribute significantly to his research.
"We congratulate Dr. David Opderbeck on receiving the prestigious Fulbright award in recognition of his groundbreaking research on AI law and policy," said Assistant Provost Amy Newcombe. "By collaborating with esteemed colleagues at the Haifa Center for Law and Technology, Dr. Opderbeck will contribute to the global conversation on AI governance and further advance our understanding of the legal and ethical implications surrounding this transformative technology."
In addition to his expertise in AI law and policy, Opderbeck's extensive body of work encompasses intellectual property, privacy, and cybersecurity law. His interdisciplinary background allows him to explore the intersection of AI and pharmaceuticals, delving into the regulatory challenges and potential disruptions in the medical research landscape.
Furthermore, Opderbeck's interests extend beyond technology and law. He has a profound interest in the philosophy of religion, particularly regarding law, justice, and global peace. The Fulbright program provides him with the opportunity to pursue these additional interests and to explore the mediating and reconciling functions of law in the context of Christian, Muslim, and Jewish relations.
"Dr. Opderbeck's Fulbright award not only recognizes his outstanding contributions to the field of AI law and policy but also highlights the importance of comprehensive and international frameworks to address the challenges and opportunities presented by AI technology," said John Kip Cornwell, interim dean and professor of law, Seton Hall Law School. "His research will undoubtedly contribute to the ongoing dialogue surrounding AI governance and shape the future development and deployment of AI systems."
About the Fulbright U.S. Scholar Program
More than 800 U.S. scholars — faculty members, artists, and professionals from all backgrounds — teach or conduct research overseas through the Fulbright U.S. Scholar Program annually. In addition, over 2,000 U.S. students, artists, and early career professionals from all backgrounds in more than 100 different fields of study receive Fulbright U.S. Student Program awards annually to study, teach English, and conduct research overseas.
Fulbrighters engage in cutting-edge research and expand their professional networks, often continuing research collaborations started abroad and laying the groundwork for forging future partnerships between institutions. Upon returning to their home countries, institutions, labs, and classrooms, they share their stories and often become active supporters of international exchange, inviting foreign scholars to campus and encouraging colleagues and students to go abroad. As Fulbright Scholar alumni, their careers are enriched by joining a network of thousands of esteemed scholars, many of whom are leaders in their fields. Notable Fulbright alumni include 62 Nobel Prize laureates, 89 Pulitzer Prize recipients, 78 MacArthur Fellows, and 41 who have served as a head of state or government.
Since 1946, the Fulbright Program has provided more than 400,000 participants from over 160 countries — chosen for their academic merit and leadership potential — with the opportunity to exchange ideas and contribute to finding solutions to challenges facing our communities and our world.
Categories: Law