Seton Hall Law Achieves Best Overall U.S. News Ranking in Its History
The Law School jumps to 56th overall and is ranked 12th best Part-Time Program and 11th best Health Care Law Program.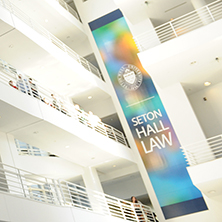 U.S. News & World Report has released the 2024 Edition of its Law School rankings, and the news is very good for Seton Hall University School of Law. The school jumped 17 spots in the overall rankings to 56th place among the nearly two hundred law schools ranked. This marks the best overall rank in its history, beating its 57th place finish in the 2018 Edition.
The improvement comes at a time when U.S. News has made significant changes to its law rankings formula. The publisher now places greater importance on student outcomes, such as passing the bar and getting a job that makes use of a law degree. "We have long been committed to the notion that law schools should be judged by the value they provide to students," said Interim Dean Kip Cornwell. "Our professors have risen to this challenge by being among the very best teachers in the country. And our Career Services Office is among the most nurturing, supportive, and creative in all of academia."
In addition, the Law School made gains in two important sub-categories. Its Weekend Program, which recently earned a spot among PreLaw Magazine's "25 Leaders in Online Offerings," climbed to 12th in the part-time program rankings. It is one of the only hybrid programs in the country that allows students to earn a JD on the weekend. Also, the school's Health Care Law program continued its streak of being among the country's best by landing at 11th in the nation.
Dean Cornwell added, "My predecessor, Kathleen Boozang, and the entire law school faculty deserve an enormous amount of credit for today's news. They focused on student improvement by pushing curricular reform, skills development, and excellence in the classroom. And of course, our graduates have done us proud by following through and passing the bar exam at very high rates."
As the Law School enters a new chapter, Dean Cornwell has maintained a commitment to these values, all while shepherding programmatic development into new areas. Among them is a new master's program in American Law that will cater to legally educated students abroad, which starts this fall.
"This is a very exciting time to be at Seton Hall Law. While rankings are not the reason we do this job, we are happy that this year's edition is better at showing potential students something we already know: Seton Hall Law is a transformative place. In good or bad economies, this place—more than any other—empowers students to take vital steps toward the career of their dreams."
News of the Law School's ranking success was featured in ROI-NJ, "Seton Hall Law jumps 17 spots, to No. 56 overall in U.S. News law school rankings."
More Rankings
The U.S. News ranking is just one of many recent accolades the Law School has received. Earlier this year, Seton Hall Law ranked 31st in the nation for first-time bar passage rate. According to statistics released by the American Bar Association for 2022 bar exam takers, Seton Hall Law exceeded the New Jersey state average by more than 14 points with a pass rate of 85.71 percent – compared to the state first-time pass rate of 71.43 percent. In addition, the school's pass rate surpassed other law schools in New Jersey by roughly 17 points.
Seton Hall Law's placement at number 31 among the 196 law schools ranked in the calculation means that it is in the top 16 percent for this outcomes-based measure. In the northeast metropolitan region, including New York, New Jersey, Connecticut, and Massachusetts, Seton Hall surpassed all other law schools with the exception of Harvard and Yale.
Among Catholic universities, Seton Hall Law placed third.
In addition, Seton Hall Law was again ranked among the "Best Law Schools" in the United States for 2023 by The Princeton Review. As noted in a previous article, as part of their ranking, The Princeton Review focuses on what it calls "Career Rating," which "is based on the confidence students have in their own school's ability to lead them to fruitful employment opportunities, as well as the school's own record of having done so."
Importantly, the Career Rating for a law school takes into account objective measures, such as median starting salaries of graduates, the percentage of students passing the bar the first time, and the percentage of graduates employed in a job that requires bar passage.
Using that methodology, The Princeton Review ranked Seton Hall Law 43rd, within the Top 25 percent of all accredited law schools in the nation for Career Rating.
Categories: Law