Christmas at the Hall Opens With New UC, Tree Lighting
Wednesday, November 30th, 2022
Christmas at the Hall kicked off with the annual Christmas Tree lighting on November 28 amid fanfare and anticipation for the official opening of the newly transformed Bishop Dougherty University Center.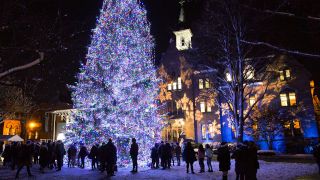 To begin the night, the university community came together for the Christmas at the Hall Mass at 5 p.m. Father Nick Sertich said that the observance was "a moment of prayer and thanksgiving for the generosity of so many Pirates who made the University Center project come to life."

The moment that many students and faculty alike had been waiting for came at approximately 6 p.m. when Cardinal Joseph Tobin C.Ss.R., Archbishop of Newark, asked of God His blessing for those in attendance, the building itself and all who would enter over the years -- and the ribbon was officially cut on the state-of-the-art UC. Clad in blue Santa hats and Pirate logos, the crowd flocked to the front steps of the UC for the ribbon cutting by President Joseph E. Nyre, Cardinal Tobin, state and local elected officials, donors and other special guests.

"We're thrilled to welcome this inspiring University Center to our campus. It was once a dream, carried in the hearts of those who lived, studied, and worked here. And tonight, it becomes a reality," Nyre said. "One of my favorite sayings about Christmas is this: 'At Christmastime, all roads lead home.' And that's where we are now. We're home."

With raucous applause and good cheer, the evening continued a few hundred feet away on the Green, where the community gathered for the 13th annual tree lighting ceremony. The festivities were led by Assistant VP of Student Services Winston Roberts and co-host Claire Wolfe, a senior Visual & Sound Media major. Those in attendance enjoyed performances by the Seton Hall Theatre Council, The Sapphires, the Seton Hall Pep Band and University Choirs as well as an appearance by members of DOVE and the men's and women's basketball teams, who were cheered by a chant of "Let's Go Pirates."

President Nyre and a group of students and alumni threw the oversized switch, lighting the tree and launching this year's Christmas at the Hall.
Spending time amidst the lights and splendor with their Seton Hall family, many sang along to Christmas carols with the campus choirs, took pictures with the Pirate, and enjoyed hot chocolate and other special holiday treats.
Seton Hall has been repeatedly recognized as #1 for Christmas, ranked the Best College in America for "Holiday Events" by Best College Reviews.

With the addition this year of the ribbon cutting for the newly remodeled University Center, this year's holiday celebration was, in President Nyre's words, an occasion which showed Seton Hall to be "doubly blessed."

The renovation of the University Center is the fruition of just one of many goals set forth by the University's strategic plan, "Harvest Our Treasures," to advance its mission. Concerning these goals, before the ribbon cutting President Nyre noted: "This building demonstrates what can happen if we set big goals, if we collectively roll up our sleeves to achieve them. And it sends a message that Seton Hall is making great strides for the great minds in our care."

Upcoming holiday events can be found here and include:
Categories: Campus Life