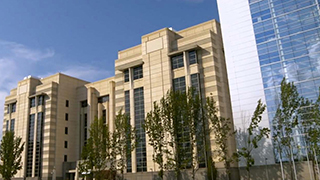 On January 15, 2015, Seton Hall University and Hackensack Meridian Health (HMH) officially announced that they had signed a memorandum of understanding to form a new, four-year School of Medicine. It became the first private medical school to open in New Jersey after many decades, operating under Seton Hall's LMCE accreditation. The new medical school is co-located with Seton Hall's College of Nursing and School of Health and Medical Sciences on the state-of-the-art Interprofessional Health Sciences (IHS) campus in Nutley and Clifton, N.J., the former site of Roche Pharmaceuticals.
As part of the agreement, full accreditation shifted completely to HMH in 2020. This partnership continues with many robust activities and joint projects including interprofessional health exploration, joint research and grants. Students in the University's School of Health and Medical Sciences and the College of Nursing study and train alongside students from the medical school on the IHS campus. The three schools also collaborate on a successful IHS Interprofessional Education Research Seminar Series at the campus which cultivates a collaborative research environment promoting scholarly discourse, skill-building and mentoring for faculty, staff and students.
In addition, Seton Hall and HMH train students for treating opioid addiction supported by an innovative U.S. Department of Health and Human Services' Substance Abuse and Mental Health Services (SAMHSA) grant program, which allows medical students along with nursing and health science students to receive certifications to eventually prescribe drugs to treat opioid addiction.
Seton Hall also remains the exclusive academic partner of Hackensack Meridian Health for any joint-degree students; plus, students continue to benefit from the guarantee that 25% of the seats in the SOM are reserved exclusively for qualified Seton Hall students. Many of these students will come from the Joint MD program.
About Seton Hall University
One of the country's leading Catholic universities, Seton Hall University has been developing students in mind, heart and spirit since 1856. Home to nearly 10,000 undergraduate and graduate students and offering more than 90 rigorous academic programs, Seton Hall's academic excellence has been singled out for distinction by The Princeton Review, U.S. News & World Report and Bloomberg Business.
Seton Hall, which embraces students of all religions, prepares its graduates to be exemplary servant leaders and global citizens. In recent years, the University has achieved extraordinary success. Since 2009, the University has seen record-breaking undergraduate enrollment growth in addition to an impressive 95-point increase in the average SAT scores of incoming freshmen. In the past decade, Seton Hall students and alumni have been awarded nearly 20 Fulbright Scholarships as well as other prestigious academic honors including a Rhodes Scholar. In the past five years, the University has invested more than $134 million in new campus buildings and renovations. And in 2015, Seton Hall launched a new School of Medicine as well as a new College of Communication and the Arts.
A founding member of the new Big East Conference, the Seton Hall Pirates field 14 NCAA Division I varsity sports teams. The University's beautiful main campus is located in suburban South Orange, New Jersey, and is only 14 miles from New York City - offering its students a wealth of employment, internship, cultural and entertainment opportunities. The University's nationally recognized School of Law is prominently located in downtown Newark. For more information, visit www.shu.edu.
About Hackensack Meridian Health
Hackensack Meridian Health is a leading not-for-profit health care organization that is the most comprehensive and truly integrated health care network in New Jersey, offering a complete range of medical services, innovative research and life-enhancing care. Hackensack Meridian Health comprises 16 hospitals, including three academic medical centers, two children's hospitals, two rehabilitation institutes, nine community hospitals, physician practices, more than 120 ambulatory care centers, surgery centers, home health services, long-term care and assisted living communities, ambulance services, lifesaving air medical transportation, fitness and wellness centers, and urgent care and after-hours centers. Hackensack Meridian Health has 28,000 team members, more than 6,000 physicians and is a distinguished leader in health care philanthropy, committed to the health and well-being of the communities it serves.
The Network's notable distinctions include having one of only five major academic medical centers in the nation to receive Healthgrades America's 50 Best Hospitals Award for five or more consecutive years, the number one hospital in New Jersey as ranked by U.S. News and World Report, consistently achieving Magnet® recognition for nursing excellence from the American Nurses Credentialing Center, recipient of the John M. Eisenberg Award for Patient Safety and Quality from The Joint Commission and the National Quality Forum, a six-time recipient of Fortune's "100 Best Companies to Work For," one of the "20 Best Workplaces in Health Care" in the nation, and the number one "Best Place to Work for Women." Hackensack Meridian Health is a member of AllSpire Health Partners, an interstate consortium of leading health systems, to focus on the sharing of best practices in clinical care and achieving efficiencies.
Hackensack Meridian Health recently announced a groundbreaking partnership with Memorial Sloan Kettering Cancer Center. This partnership between the world's oldest and largest private cancer center and one of New Jersey's largest healthcare systems will bring innovative care to patients and create shared programs that will be amongst the largest in the country.
| | |
| --- | --- |
| Hospital | Location |
| HackensackUMC | Hackensack |
| Jersey Shore University Medical Center | Neptune |
| Joseph M. Sanzari Children's Hospital | Hackensack |
| K. Hovnanian Children's Hospital | Neptune |
| Ocean Medical Center | Brick |
| Riverview Medical Center | Red Bank |
| HackensackUMC Mountainside | Montclair |
| Palisades Medical Center | North Bergen |
| Raritan Bay Medical Center | Perth Amboy |
| Southern Ocean Medical Center | Manahawkin |
| Bayshore Community Hospital | Holmdel |
| Raritan Bay Medical Center | Old Bridge |
| HackensackUMC at Pascack Valley | Westwood |
| JFK Medical Center | Edison |
| JFK Johnson Rehabilitation Institute | Edison |
| Shore Rehabilitation Institute | Brick |
To learn more, visit www.hackensackmeridian.org.