Martin Luther King Jr. Leadership Program
What is the MLK Leadership Program?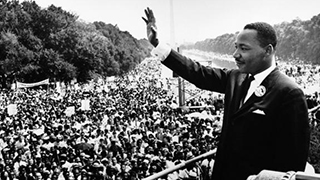 Established in 1970, the Martin Luther King, Jr. Leadership Program is the oldest and most prestigious servant leadership program at Seton Hall University and is one of the earliest such programs in the United States.

Not only does the MLK Leadership Program provide partial tuition scholarships to exceptional students each year, but it also provides management and leadership development skills to its scholars. Scholars learn how to execute programs and events from the conception, development and implementation. MLK Scholars will also complete research on issues involving values and social justice. The University CORE curriculum will also compliment our goals by the emphasis on intellectual and ethical engagement through a values and spirituality oriented approach to critical thinking. We also engage and build our community through an annual retreat for all scholars and faculty.
Furthermore, scholars are committed to community service by completing more than 40 hours of service annually. The MLK scholars work in a variety of settings including middle schools to offer motivational programming and after school classroom reinforcement or conducting urban environmental policy workshops. We also conduct fund raisers to elevate the awareness of emergent problems in the society.
All MLK Scholars will be active participants in the Martin Luther King Scholarship Association (MLKSA). This honorary society has received numerous awards for its outstanding programming.
What are the Program requirements?
In order to be selected, high school seniors must demonstrate exceptional academic achievement and substantial contributions to community service. Active participation in leadership positions is also extremely valuable. Interested students must submit their application for admission, supporting documents and MLK Scholarship application by December 1 but no later than January 15.
All first year MLK Scholars will take part in the Dr. Martin Luther King, Jr. Honors Seminar in the spring of that year.
What kind of support is available?
As part of the MLK Leadership Program there is an extensive support staff to assist scholars as they adjust to college life at Seton Hall and as they foster the growth of their new leadership skills. The MLK Leadership Program support staff is composed of approximately 20 volunteer support staff persons including: a Program Director, 12 advisors and mentors, five Faculty Fellows, five Community Fellows and four Scholar-Theologians.
Fill out the application here »
For more information »
Rev. Dr. Forrest M. Pritchett
Faculty Mentor, Freshman Studies Program; Program Director
(973) 275-2760
[email protected]