Executive Director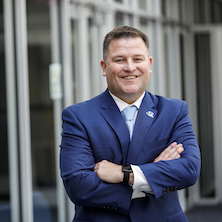 Bryan C. Price, Ph.D.
Lieutenant Colonel (Ret.) Bryan C. Price, Ph.D., a nationally- recognized expert on leadership development and terrorism, is the founding executive director of the Buccino Leadership Institute. Price's career is steeped in more than 20 years of distinguished leadership experience, including serving in multiple levels of command, ranging from leading combat troops in Iraq and Afghanistan to serving as an associate professor in the Department of Social Sciences at the U.S. Military Academy at West Point, considered the world's premier leadership development institution. In his most recent role, he directed the Combating Terrorism Center (CTC) at West Point, an internationally- renowned research and education center with global influence.
Price earned a B.S. in U.S. History from West Point, an M.A. in International Relations from St. Mary's University, and an M.A. and a Ph.D. in Political Science from Stanford University. His knowledge and expertise in terrorism, counterterrorism, U.S. national security, leadership and performance psychology have resulted in his briefing senior United States government and military officials throughout his career, including members of Congress, secretaries of Defense, Directors of the CIA, FBI and NCTC, and numerous combatant commanders. His book, Targeting Top Terrorists: Understanding Leadership Removal in Counterterrorism Strategy (Columbia University Press), has received international praise from recognized experts in the field. 
Price is the recipient of numerous military commendations, including the Legion of Merit, two Bronze Stars, three Meritorious Service Medals and two Air Medals. His professional affiliations include the American Political Science Association, International Studies Association, and Marshall Center for Security Studies Alumni as well as serving as a Term Member of the Council of Foreign Relations (2010-2015).
Associate Directors
Each Leadership Center within the Institute has an associate director. Under the direction of Executive Director Bryan Price, each of the directors leads the program within their discipline and oversees a specific leadership pillar based on the philosophy and work of their school or college. With a passion for developing young leaders, the directors work closely with the leadership students throughout their journey in the certificate program, particularly in years three and four when students are learning to "lead in their discipline."