"True leadership is much more than just personal achievement. It's about those around us; how we can learn from the wisdom and knowledge of those to reach a collective good in life."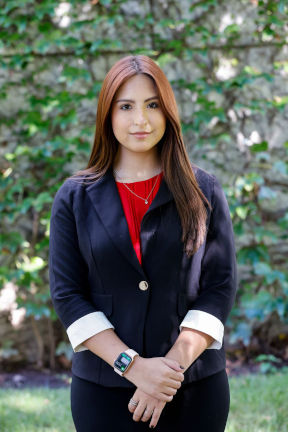 Stephanie Martinez, a first-generation student, has profoundly valued the importance of making the most out of educational opportunities. This inspired her to make a difference within her community in any way she could. Her passion for helping others started with tutoring elementary school students, which consisted of setting plans to achieve their own academic goals on a weekly basis and providing extra support where they needed. With a deep love for learning, it was important for her to make sure that every child had an opportunity to find their own love for it as well. This altruistic feeling has carried over into Stephanie's college career, allowing her to explore her interests even further with the vast opportunities available at Seton Hall. Such as becoming part a Peer Advisor which has allowed her to connect with others of so many diverse backgrounds and navigate them through first-year difficulties.
From the moment Stephanie stepped onto Seton Hall's campus, it felt like the right place to develop herself into the best professional she could be in her future nursing career. Seton Hall offers the place for nursing students to grow their abilities even further at the Interprofessional Health Science campus, focusing on that interpersonal communication and collaboration that is so vital in healthcare. Since high school, it was her dream to be a nurse and be the person that plays such a vital role in making sure patients receive the immediate care in their times of need. Stephanie is excited about furthering her nursing education in the various future clinical rotations that will allow her to explore the different sides of nursing.
When Stephanie was selected for the Buccino Leadership Institute, she was eager to begin her journey to shape herself into the leader she has always inspired to be. The Institute has a unique hands-on experience to guide students in their leadership journey and improvement. This chance provides the opportunity for Stephanie to continue perfecting essential skills like communication, critical thinking, and learning from varying perspectives which are all necessary in life. As she becomes a great leader, she wishes to guide and collaborate with others, especially when challenges arise. The skills developed in this Institute will allow Stephanie to grow the confidence to discover and curate solutions for a better work environment and patient care in her future nursing endeavors.
Stephanie wishes to use all the skills learned from her experiences here at Seton Hall to become the most empathetic and hardworking nurse that she can be. For her future career goal, she wishes to continue with her natural rapport for working with children, especially in the healthcare setting. There is so much to learn that Stephanie awaits the day to have a more hands on experience with patients and their health. As everything in life is a challenge, Stephanie is fully committed to doing just so and impacting those who need her each day.
Seton Hall Career Highlights:
Competitively selected into the Buccino Leadership Institute
Peer Advisor
Member of Student Nurses Association
Joseph A. Unanue Latino Institute Scholar