"I am eager to pursue all opportunities to become an effective leader."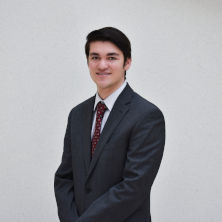 Sean Distelcamp is a student of the Buccino Leadership Institute in the Stillman School of Business. He is currently double majoring in IT Management and Economics. Before his experience at Seton Hall, Sean played quarterback for his school football team, and he was also on the tennis team. In addition to this, Sean was an honor student all throughout high school.
Sean made the decision to go to Seton Hall over his other top choices because of the leadership program, the scholarship he was offered, and for the convenience of being so close to New York City.
Sean was so interested in joining the leadership program for several reasons. First and foremost, it was because the Stillman Leadership Program is ranked number one in the country for business leadership certificate programs. In addition, Sean wants to make connections with as many people as possible for a chance to ear an internship in the future. So far, at Seton Hall, Sean has gotten involved with Habitat for Humanity and the university intramural flag football league. He also runs social media for the Stillman Leadership Program. Sean wanted to emphasize that "Seton Hall was the perfect choice for me, and my experience here is going to be an amazing journey."
Seton Hall Career Highlights:
Competitively selected to be in first Buccino Leadership Institute cohort