"Leadership isn't about knowing what to do all the time and always having the right answer, it's realizing that sometimes the right answer is stepping back and letting someone else lead the way."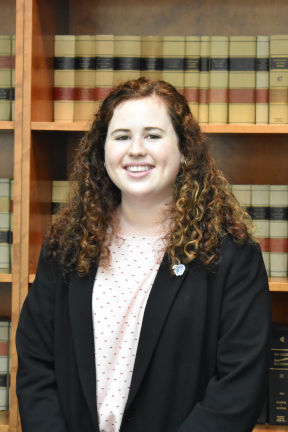 Olivia Ransbottom is someone invested in the world of politics, theatre, and writing, making for quite an interesting conversation. How can someone be so interested in such different worlds? Well, for Olivia, it's all about her upbringing. "I'm someone who grew up with a dad working in politics, a family of avid readers, and also doing community theatre. So, for an all-or-nothing person like myself, it was only natural to major in all three!" Olivia has had a strong work ethic since day one, growing up with a special needs sister and in a chaotic household. Olivia found her escape by reading and succeeding in school, which eventually brought her to high school at Union County Early College (UCEC). At UCEC, Olivia was able to obtain her Associate of Arts degree upon graduation. Not only did Olivia complete the five-year program in four years, but she also served as President of the school's National Honor Society, volunteered with the Special Olympics, and helped to found the school's very first Student Council.
Once graduated, Olivia moved from North Carolina to New Jersey on her own to study at Seton Hall University. She became a member of the Honors program, the Buccino Leadership Institute, and clubs across campus. Olivia thrived upon arriving at Seton Hall and realized just how many opportunities were at her fingertips. She began to make connections across campus, participating in Theatre Council productions and finding her place at the University. Upon completion of her freshman year, Olivia had maintained a 3.6 GPA and made ample memories. Entering into her sophomore year, Olivia began her position as a Resident Assistant for the Housing and Residence Life Department. She also worked as an Office Assistant for the Department. By becoming a Resident Assistant, Olivia was able to put her leadership skills into practice by helping students from all walks of life and interests to find their home at the Hall.
Olivia had always been interested in literature but was unsure how she could apply it to her academic career. Upon doing research and talking with various advisors, Olivia was able to expand her double major, Theatre and Political Science, into a triple major, adding English. Olivia is excited to pursue this third major. It will allow her to hone her writing skills and apply them to her other two courses of study. In doing so, Olivia hopes to take her degrees to graduate and then law school. Olivia is looking forward to continuing her studies at Seton Hall and learning all she can from the Buccino Leadership Institute.
Seton Hall Career Highlights:
Competitively selected into the Buccino Leadership Institute
Resident Assistant for the Housing and Residence Life Department
Member of the Honors Program
Member of the Theatre Council