"As soon as I was accepted into the Business Leadership Program, I knew I had to attend Seton Hall. It is turning out to be one of the best decisions of my life."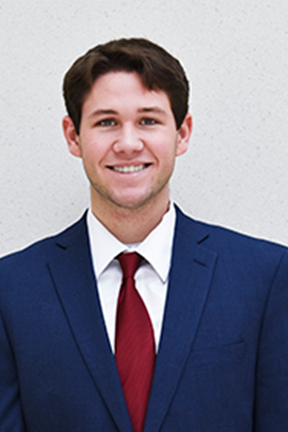 Noah Turner left his home town of Mullica Hill, New Jersey, to pursue his passion for business at Seton Hall University. At Seton Hall, he studies Accounting and Finance and is part of the Buccino Leadership Institute's business cohort.
During his high school career, Noah held many leadership positions, including captain of the soccer team, treasurer of the National Honors Society, treasurer of the Students Against Destructive Decisions club, and treasurer of the Habitat for Humanity club. As he acquired leadership experience from these activities, Noah also strengthened his leadership skills at home by being a role model for his younger sister.
At Seton Hall, he continues to challenge himself and is involved on campus as much as possible. "I rarely have free time because my schedule is packed with various classes and activities, but I believe that all of the experience that I am gaining from these activities is completely worth it."
Noah chose to attend Seton Hall because of its award-winning Business Leadership Program. Noah knows that the leadership program will provide him with opportunities that no other college program can. He also chose Seton Hall because the job placement rate of previous students who graduated from the Business Leadership Program is one hundred percent. "I believe that Seton Hall will fully prepare me for success in my future career."
Noah chose to be a part of the leadership program because it gives him the opportunity to meet new people, make connections, and network. He hopes to get out of his comfort zone and gain real-world experience by interacting with and learning from company executives. Through the workshops offered by the program, he continuously is working on shaping his leadership abilities. Additionally, Noah devotes much of his time to numerous activities at Seton Hall both on and off campus.
Seton Hall University Highlights:
Competitively selected to be in first Buccino Leadership Institute cohort for Stillman School of Business
PirateThon, Collaboration, Interview, Alumni, Family, and Marketing/Recruiting Business Cohort Initiatives
Hall Street Fund
Resident Assistant
Financial Planning Association
Office Assistant for Senior Director of Administration in University Advancement