"Doubt is the enemy of success. I believe the Buccino Leadership program will help me eliminate that doubt and embrace my true leadership skills."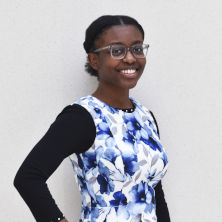 Melissa Alexis is from Maplewood, New Jersey. She comes from a large family and is the fourth of five children. Melissa loves working with children and helping with Sunday school at her church. She is also involved in the elementary schools in her district. In high school, she helped with FLES and taught French to elementary students. With another program, Melissa went to elementary schools to help mentor and tutor the children and do various activities with them. She loves music and it has always been an important part of her life, especially since she plays the flute and piano. Another one of her passions is learning languages because she loves the connections that are formed and the sharing of cultures. Melissa currently speaks Haitian Creole and French but desires to explore other languages.
Melissa came to Seton Hall because of the 4+2 Education and Speech Pathology program. Melissa is a part of the Leadership Program because she wants to build her leadership skills, which she believes will be beneficial in helping her succeed in building her confidence in her field of study and personal life.
On campus, Melissa is president of the Seton Hall Gospel Choir, Vice President of the Haitian Organization Promoting Education, and she is involved in a couple of new clubs. Her goals for the future are to become a certified educator and a speech language pathologist. Melissa would eventually like to open her own practice so that she will be able to work with kids. Traveling to Haiti, where she has her family roots, was an eye-opening and life-changing experience for her. She would like to start a non-profit organization having to deal with speech pathology or education in Haiti.
Melissa sees it as an honor to be chosen for the Buccino Leadership Program. She looks forward to the new experiences and people she will encounter during the coming years.
Seton Hall Career Highlights:
Competitively selected to be in the first Buccino Leadership Institute cohort
President of the Gospel Choir
Vice President of Haitian Organization Promoting Education
Elementary school internships
American Sign Language Club