"Going into this program I did not know what to expect, but after a couple months, I have learned, experienced and made more invaluable relationships then I could have ever hoped for."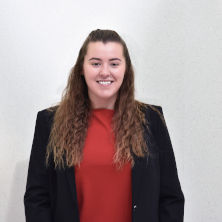 Mackenzie Conroy, from Mendham, New Jersey, is working towards her B.A. in Marketing and Finance. "This program, [Buccino Leadership Institute], provides me with a unique and constructive experience that I am very fortunate to a part of at Seton Hall."
In high school, Conroy was captain of her high school basketball team and was well on her way to playing college basketball at several different schools, until she broke her foot, losing her chance. As Conroy recounts this challenge, there is an absence of disappointment and instead a comfort in where she ended up. "If it was not for my foot, I would not be sitting here today at Seton Hall with this amazing opportunity, the leadership program."
In her free time, Conroy enjoys attending basketball games and watching sports, in addition to painting, sculpting, and horseback riding. Conroy was a member of her National Honor Society. She also was the founding president of the Unified Sports Club which provides Special Olympics events at her school. Conroy also was a Girl Scout through her senior year of high school.
After her injury, Mackenzie decided to follow in her older sister's footsteps and attend Seton Hall. This pushed her to apply for the leadership program as her sister is an Class of 2017 alumna of the Stillman School of Leadership's Business Program.
Conroy hopes this program can aid her in strengthening her social skills and leadership ability, and challenge her to be the best she can be, which in her mind, is only achievable through the unique aspects of Seton Hall and the Buccino Leadership Institute. She also gets to experience something that her sister did not, the new multidisciplinary cohort aspect of the leadership program, with leadership students coming from all over the university and not just business.
Conroy plans on getting her M.B.A. following graduation, and then wants to travel around the world. Her goal is to learn about different cultures and various foods and possibly attend culinary school in Europe. From there she dreams of opening her own restaurant or getting involved in the corporate side of the food industry.
Seton Hall Career Highlights box:
Competitively selected to be in first Buccino Leadership Institute cohort
Decoration Board for Pirate-a-thon