"If you look inside yourself hard enough you'll find the ability to achieve anything. Simple in concept, but difficult in practice."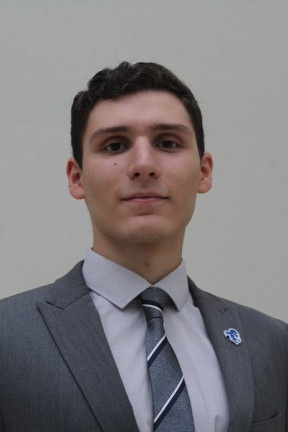 Originally born in New York City, Louis Cappiello spent his early years in Brooklyn before moving to Sayreville, New Jersey. As high school came to a close, Louis looked to educate himself in the business world and enter the flowering job market. The only question was where to go.
He chose Seton Hall because "it just had everything I could ask for. From the proximity to the award-winning results of the Business Leadership Program." This proximity provided Louis with a thirty-minute drive. His mindset to save himself effort in the long-run made him choose to be a commuting member of Seton Hall. "A bit more effort now can save me a lot more in the long run."
It is this mindset of putting in the effort to see results in the future that has pushed him to obtain a place in the competitive Buccino Leadership Institute. A large public school was not something Louis was looking for and the homely atmosphere of Seton Hall, combined with the school's ability to provide him with the skills he needs for the future job market, roped him in.
After becoming a student, Louis has made it a goal to cement himself in organizations with meaning and a commitment to change. As an active member of the Student Government Association, Louis is committed to making his and his fellow business students' experiences at Seton Hall better. The Finance Committee, which is a part of the Student Government Association, has also allowed Louis to participate in creating club events through fund allocation.
The endless possibilities Seton Hall has so far provided Louis have him still deciding what he wants to do. He has chosen Finance and IT as a foundation for his education and wonders where Data Analytics or Cybersecurity may take him in the business world. "With experienced leaders lined up who want to help, I don't feel lost because I can always ask and receive answers in the end. To get knowledge from those who have lived their lives is almost like traveling in time. I end up with years of experience I shouldn't yet have, and that is the beauty the program provides."
Seton Hall Career Highlights:
Competitively accepted into the Buccino Leadership Institute
Student Government Association Business Senator
Finance Committee Member of the Student Government
Financial Account Manager of the Finance Committee