"Leadership is a privilege and with the opportunity to be a member of the Buccino Leadership Institute, I look forward in continuing to learn how to be an effective leader and further develop my skills."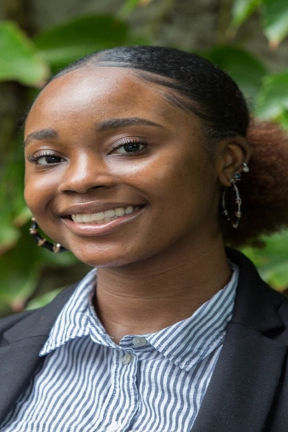 Kristina Brown embarked on her journey with a passion for children and education. At Seton Hall, she knew that she would excel and be given the best tools, opportunities, and experiences. Faculty are amazing, caring and strive to see their students succeed. She feels the most comfortable here and has been given ample opportunities to grow, learn and become a great leader.
In high school, Kristina had the opportunity to be president of a club called The Prestigious Ladies of Power, where she learned a lot about what it takes to be an effective leader. This experience not only allowed her to work with children and further her practice in hopes of becoming a teacher, but it pushed her to continue to want to learn more about effective leadership. At Seton Hall and through the institute she is able to do that where she can further her knowledge and develop her leadership skills. As a teacher, Kristina believes that leadership is very important as she will be leading and teaching the future generation.
As a student at Seton Hall, she finds her studies very interesting, and she looks forward to putting what she has learned and will continue to learn into practice. Her goals are to of course be a great teacher that students can rely on and trust, but further she hopes to continue her education to work in administration. Her passion for children is great and she wants to help cultivate leaders of tomorrow.
Although she views herself as shy and quiet at times, Kristina knows that she has so much more to offer. She chose to be a part of the Buccino Institute because she believes it will prepare, teach, motivate, and cultivate a confident leader who is not fearful of sharing ideas or talking in a group. She yearns to learn new things and wants to get out of her comfort zone. Through the institute she is able to be mentored and supported and is given many leadership opportunities in all different forms and aspects.
Kristina continues to work hard to be the best version of herself. She wants to continue to be more involved on campus and find more opportunities where she can be in a classroom setting, teach and impact the lives of young people. Kristina continues to work on her leadership skills and looks forward to what's yet to come in the Buccino Leadership Institute.
Seton Hall Career Highlights:
Competitively- selected into the Buccino Leadership Institute
Dr. Martin Luther King, Jr. Scholar
Today's Students, Tomorrow's Teacher
H.A.I.R., President