Kevin Metz
Finance major
Clark, New Jersey
"So far, being at Seton Hall has not only helped me grow as a student, but as a leader and a man. These past few months have flown by and my main goal is to absorb as much information as possible, while also shaping myself into the person I want to be. The leadership program has been my driving force and has taken me multiple steps in the right direction, but the race has just begun and I have hopes to finish the race as a new and improved version of myself."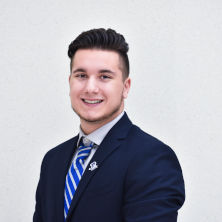 Kevin Metz comes from a family of four out of Clark, New Jersey. He takes pride in the sports he has played his entire life. He has many accolades to show for his hard work on and off the field and has grown a great sense of leadership from these experiences.
As a part of the Gerald P. Buccino Leadership Program, Kevin is enhancing his skills of communication and leadership. He also believes the program is helping to shape himself into a genuine, well-rounded individual. He plans to enroll in the 5-year MBA program hoping to attain his master's degree in either Finance or Accounting.
Kevin's goal for the next 10 or so years is to get the most he possibly can out of Seton Hall University and find out what career path is right for him. He intends to start his career in New York City, and give his all toward every task thrown his way. He dreams of working his way up the ranks and eventually becoming a CEO of a major company and using the leadership skills he has learned to make the company as successful as possible.
"College, to me, is a very crucial 4 or 5 years in your life. The relationships you make, the memories you create, and the lessons you learn will shape you, and build a structure for you after college. I plan on making the most of my time here at Seton Hall and setting myself up for a very successful future, whatever that may be. I have already grown so much as a person while being here and I couldn't be more excited to see what the rest of my time has in store. I plan to work hard and learn the skills I need to excel in the business field and make my name one that you remember."
Seton Hall Career Highlights:
Competitively selected to be in the first Buccino Leadership Institute cohort
Volunteer around campus and in the local community