"I work hard to become a leader and positively change today's world, so I can inspire the next generation of students to work hard and become the leaders that will positively change tomorrow's world."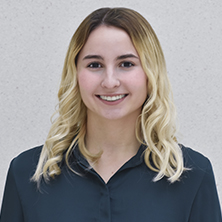 After discovering her passion for teaching children, Kaitlin Branigan left her home town of West Islip, New York, to attend Seton Hall University to study education and speech pathology. At the university, she is enrolled in the Elementary and Special Education with Speech-Language Pathology four-plus-two program and is a part of the Buccino Leadership Institute's education cohort.
With accolades such as the National Honor Society and World Language Honor Society, and leadership experiences such as serving as captain of the swimming and diving team and president of the Students Against Destructive Decisions club, Kaitlin capped a successful high school career and came to Seton Hall in search of a new challenge. She leads as an example for her younger sister and three younger brothers, who she is close with at home. "Pulling experiences from different leadership backgrounds truly helps me understand what it takes to be a successful leader," Kaitlin explains.
Kaitlin chose to come to Seton Hall because of its unique four-plus-two education with speech pathology program. She believes that this program will be beneficial for her future career because it provides a Bachelor's in Elementary and Special Education, while also automatically offering placement into Seton Hall's Speech-Language Pathology Master's program. Seton Hall's program allows her to develop core teaching skills and lesson planning strategies that will ultimately benefit her when working as a speech pathologist. Kaitlin believes "Seton Hall's Education program provides students with limitless opportunities to learn and grow both inside the classroom and outside the classroom while student teaching."
Kaitlin chose to be a part of the Buccino Leadership Institute because she understands how important it is to have leadership skills in the field of education. Within the institute, she hopes to further develop her core leadership skills and build a strong network.
Working currently as a lifeguard, Kaitlin is gaining work experience and taking on the responsibility of keeping others safe, which is the most important part of a teacher's job. During the summer, she is employed as a full-time Special Education Aide for Eastern Suffolk BOCES in an elementary school. She hopes to find internships in the coming summers, which will hopefully lead to her working in an elementary school as a speech-language pathologist.
In addition to being competitively selected for the first Buccino Leadership Institute cohort, Kaitlin dedicates time to Seton Hall's American Sign Language club on campus, where she serves as secretary. She is excited to spread awareness of deaf culture by taking part in the formation of this club and helping it grow and thrive in the upcoming years.
Seton Hall Career Highlights:
Competitively selected to be in first Buccino Leadership Institute cohort
Recreation and Athletic Center Lifeguard
Secretary of Seton Hall's American Sign Language Club