"A true leader has the confidence to stand alone, the courage to make tough decisions, and the compassion to listen to the needs of others. He does not set out to be a leader, but becomes one by the equality of his actions and the integrity of his intent." -- Douglas MacArthur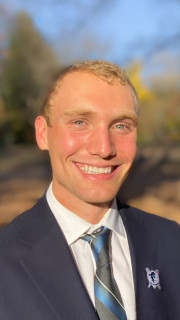 Jonathan is a hard worker with high energy and passion. He hails from Lynnfield, Massachusetts, where he was highly involved with his high school. He lettered in both soccer and baseball four times throughout his four years, captaining both teams his junior and senior years. As the National Honor Society Historian, he was awarded the Lynnfield High School Faculty Book Award, which is the highest book award given by the school.
Jonathan chose to continue both his academic and athletic careers at Seton Hall University. In addition to majoring in Psychology and minoring in Business Administration, he plays baseball for the historic Seton Hall Baseball Program. The life of a Division 1 student-athlete and is not always easy. Jonathan balances a rigorous class schedule and practices up to six days a week, including early morning weight room lifting sessions. But balancing it all and succeeding is something that Jonathan takes pride in, "I get the opportunity to play the sport I love at a high level with great players around me, as well as further my education in a field that interests me. I always want to ensure that I can balance it all so I can take full advantage of everything the University offers because it is a privilege to be here."
On top of this, Jonathan participates in the athletic department at Seton Hall, serving as the Chief of Staff of the Student-Athlete Advisory Committee (SAAC). He also enjoys attending weekly Bible study run through Varsity Catholic.
Jonathan became intrigued by the Buccino Leadership Institute after hearing about it from his peers. After looking into it and finding out it was the number one leadership academy in the nation, he said it was a no-brainer to apply. "I wanted to surround myself with the top-notch leaders at Seton Hall." Jonathan said, "By interacting with such good people, both students and faculty members, I thought I could learn from them and further grow as a person, to develop as a leader, so that I could be the best version of myself possible. I was very fortunate to be admitted to the program."
Outside of academics and athletics, Jonathan enjoys discussing anything from diet to meditation to health longevity and, in the future, wants to be involved in Sports Psychology and mental and physical well-being.
Seton Hall Career Highlights:
Competitively selected into the Buccino Leadership Institute
Member of the Seton Hall Baseball Team
Freshman Scholar-Athlete of the Year (2019-2020)
Chief of Staff for the Seton Hall University Student-Athlete Advisory Committee (SAAC)