"My dream job is to be the general manager of an NBA team. I have no doubt that the Buccino Leadership Program will be the key to me achieving this ambitious goal."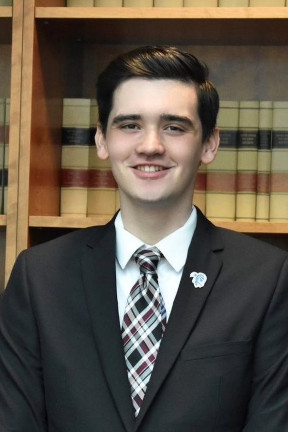 When looking for a school to help him achieve his dream of turning his passions into a career, John immediately knew that Seton Hall and the Buccino Leadership Institute were the perfect match for him. Growing up in Guilford, CT, John was an avid basketball fan from a young age and developed an interest in business as he reached his high school years. His dad taught him early on that the key to success and happiness in one's professional life was finding where your passion and career intersect. John is confident that the experiences he has already had in the Buccino Leadership Institute will help him achieve this goal.
John was immediately impressed with the Leadership Institute upon visiting Seton Hall. "I was blown away with the opportunities the program presented, and how welcomed I felt by the Buccino leaders and student mentors. In addition, I was inspired hearing the professors speak. It made my college choice really easy." The hands-on leadership experience and tremendous networking access is what excited John the most about the Leadership Program.
One of John's goals in the program is to learn how to inspire others through his leadership. "I feel that one of a leader's most important responsibilities is to project the same level of passion and enthusiasm they possess onto those who follow. When a team is inspired by their leader, it motivates everyone including the leader, to achieve their highest potential and most definitely increases the quality of work and overall productivity." John cites this quote by President Ronald Reagan as his purpose for his goal: "The greatest leader is not necessarily the one who does the greatest things. He is the one that gets the people to do the greatest things." John also feels that the Leadership Program has already put him a step ahead of his peers that attend other universities. "When I hear my friends who attend other universities talk about their school experience thus far, it pares in comparison to what the Buccino Leadership Institute introduces their students to from day one."
John's interests have driven his involvement at Seton Hall. He has played the saxophone for many years and joined Seton Hall's Pep Band, playing at most of the men's and women's home basketball games his freshmen year. He enjoys the display of school spirit while cheering on the basketball team in the student section at the Prudential Center. Additionally, John is involved with the Turning Point USA chapter at Seton Hall, a non-profit organization focused on promoting ideas of fiscal responsibility and free markets on college campuses.
John is pursuing a career in the field of sports business. His goal is to work in upper management for an NBA team one day. He feels that his passion for basketball along with the leadership experience and education he will receive from the Leadership Program and the Stillman School of Business will put him on the path to achieving this goal.
Seton Hall Career Highlights:
Competitively selected into the Buccino Leadership Institute
Member of Seton Hall's Pep Band
Member of Turning Point USA Chapter at Seton Hall
Freshmen Mentor in the Business Cohort's Freshmen Mentoring Initiative