"Through the Buccino Leadership Institute, I have learned that the path of leadership is one without a final destination; great leaders value the importance of continuous growth and change."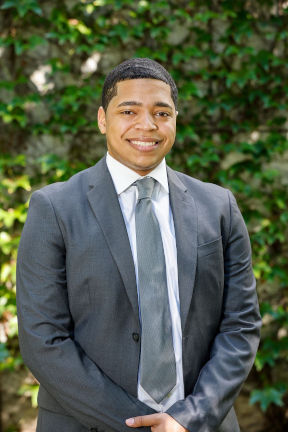 Jason Santos grew up for most of his life in Newark, New Jersey - living only 5 miles away from Seton Hall University. He studies Economics and Mathematical Finance and is a member of the Buccino Leadership Institute's business cohort.
Being a first-generation college student, along with being the first of his family to be born in the United States, the process of selecting a college was new and confusing. Initially, Jason was not invited to apply to the Buccino Leadership Institute upon acceptance into the school. His reason for attending Seton Hall was due to the prestigious academic reputation, and the financial package that the school offered.
Intending to be a role model for his family, he applied himself to his studies while also working part-time all year to afford his education. He pushed himself to achieve academic success and ended with a 4.0 GPA.
After his freshman year, he received the invitation to apply to the business cohort of the Buccino Leadership Institute as a nomination by the Dean's office. After having researched the program, he became interested in the opportunities that the program would provide him, pursued a position, and was accepted.
Jason would describe being accepted into the Institute as the highlight of his college career. Despite not being a member of the program his freshman year, his new peers accepted him as one of them and taught him many valuable lessons. Through the leadership program, he has gained the opportunity to expand his network and learn invaluable skills to be used in and outside of the classroom.
He realizes that this new opportunity of his has accelerated him beyond his peers outside of the program. He continues to challenge himself and get out of his comfort zone, looking to participate more. In his pursuit of new experiences, he has become an office assistant for the business cohort's advisor.
He finds the communal aspect of the program to be one of his favorite parts, as he feels as though he had joined a family within the school. The peer-to-peer feedback and cooperation allow him to grow and learn with every opportunity, failure, or success.
Jason is grateful to be a part of the program and looks forward to further developing his leadership skills.
Seton Hall Career Highlights:
Competitively selected to be in the Buccino Leadership Institute Stillman School of Business Cohort
Office Assistant for Business Cohort Admissions