Jared Rubino
Finance major
North Providence, Rhode Island
"Comfortable and content is the enemy of achievement."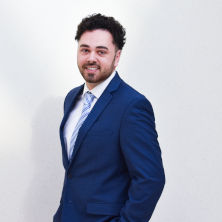 Jared Rubino is majoring in finance at the Stillman School of Business. Raised in North Providence, Rhode Island, Jared chose Seton Hall for its dedication to servant leadership and his acceptance into the competitive Buccino Business Leadership Development Program. The servant leadership component was an important factor in his decision. Jared dedicated a lot of his time to community service in his hometown and was even awarded the Presidential Service Award. Jared's passion for community service comes from his supportive parents and generous community back home. "My parents and my town did a lot for me, and I want to return the favor and give back to those that helped me along the way." To Jared, his family is a big part of his life, and he hopes to be a role model for his younger brother, while making his parents proud at the same time.
During the time he has been on campus, Jared is an active member of Piratethon, the Servant Leader Scholarship program, Hall Street Fund, Financial Planning Association, ALPHA and the Sports Networking Association. While at Seton Hall, Jared says, "I want to be the best version of myself, so that I can be in a position where I can inspire others and be inspired along the way."
Jared also lives by the words, "It's not about the destination, it's about the journey." He prides himself on becoming as well-rounded as possible, and he hopes that along this journey at Seton Hall, he not only becomes a better student and future employee, but a better man as well.
Ambitious and hardworking, Jared knows that he wants his career field to be in finance. With the multitude of opportunities available in the Business Leadership Program, Jared wants to absorb every bit of the resources and enrich his experience over the next four years.
Seton Hall Career Highlights:
Competitively elected to be in the first Buccino Leadership Institute cohort
Accepted into the Gerald P. Buccino 63' Leadership Development Program, the number one leadership development program in the nation
Awarded Presidential Service Award, issued by the White House for contributions to community through volunteering
Recognized as a New England Servant Scholar, for both excellence in academics and community service