Isabelle Mazgaj
Finance major
Lyndhurst, New Jersey
"The Buccino Leadership Institute has encouraged me to grow into the leader I am today, a leader who will always pursue her dreams and passion for helping others".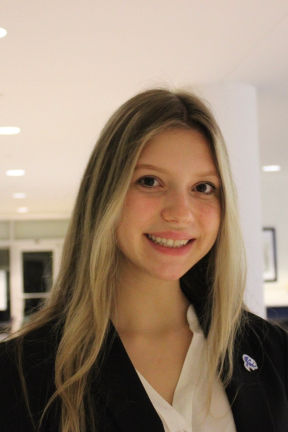 Hoping to live and work in New York City upon graduation, Isabelle chose Seton Hall University as the place to pursue her passion for business. Her acceptance of her invitation to the Buccino Leadership Program served as a catalyst for her leadership development journey and her educational career at Seton Hall University.
Having first identified her leadership potential during her time as President of the Environmental Protection Initiative at her high school and being one of the dance captains of her competitive dance team, Isabelle aimed to strengthen her leadership skills throughout her college experience. Isabelle chose to attend the Buccino Leadership Institute with the goal of meeting new people, developing her soft skills, and having an experience-focused understanding of leadership. She understands that her leadership development experience is a unique opportunity that very few college students have the opportunity to pursue.
Both within the Leadership Institute and within the Seton Hall community as a whole, Isabelle aspires to be as involved as possible. She is a co-founder of the Advisory Council Initiative within the Business Leadership cohort and started an initiative titled "Empowered Women Empower" with one of her peers in the Arts & Sciences cohort. "I know that I will never have the same opportunities as the ones I am currently presented with, and I intend to make the most of each and every one of them".
Isabelle is looking forward to her continuous leadership development as a member of the Buccino Leadership Institute, where she knows she will be continuously challenged and pushed to maximize her full potential.
Seton Hall Career Highlights:
Competitively selected into the Buccino Leadership Institute
Co-founder of the Advisory Council Initiative within the Business Cohort
Co-President of the Freshman Onboarding Initiative within the Business Cohort
Vice President of the "Empowered Women Empower" Initiative
Business Cohort Interview Initiative Member
Public Relations Social Media Coordinator for the Stillman Mentorship Program
Active member of the Seton Hall Alpha Phi Sorority