"As Einstein once said, 'If you want to live a happy life, tie it to a goal.' And when I put my mind to something, there is no goal that I cannot achieve."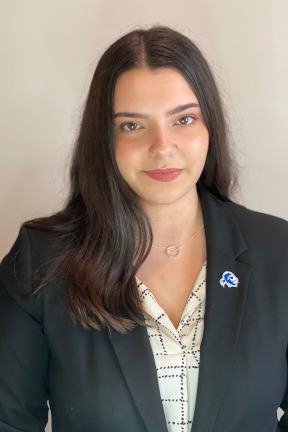 Elizabeth Rauchet is the ultimate go-getter. She is a constant learner, always looking for opportunities to better herself and thrive in the environments around her. She has a contagious energy and positive attitude that empowers her to succeed at anything she attempts. Elizabeth is a tactical thinker, strong writer, and innovative leader. She is not afraid of failure; she embraces it as a part of her process. Her energy comes from helping others and being a leader that inspires. Elizabeth lives by the mantra "show don't tell," and the goals she has accomplished are proof of it.
The minute she heard Dr. Price speak about the Buccino Leadership Institute at an open house, Elizabeth knew she would do everything in her power to be a part of this family. As a result of her hard work and determination, Elizabeth was accepted into both the Institute and the University's Honors Program. While some would see balancing these vigorous programs as a challenge, Elizabeth sees it as another goal for her to accomplish. She states, "I believe it is important to stretch out of your comfort zone. Being uncomfortable is only a tool that will help you grow, and hard work always pays off in the end."
Elizabeth also has a passion for mindfulness and well-being. She believes that for someone to be the best version of themselves, they must make well-being a priority. She states, "This is something that I have struggled with within my own life, so I want to spread awareness and positivity to whomever I encounter." Elizabeth has worked closely with the organization SKY Campus Happiness, learning meditation and breathing techniques that allow her to be the best leader she can. She spent eight weeks in a fellowship for this organization, reconstructing their social media accounts and creating a campaign to spread positivity. She was also elected president of Uplift SHU, a club branch of SKY Campus Happiness at Seton Hall University that focuses on well-being. Elizabeth uses these leadership positions as a tool to positively impact as many lives as she can.
In her future, Elizabeth hopes to continue growing as a leader. The Buccino Leadership Institute has given her the tools she needs to succeed in her current and future leadership positions, and her goals will always align with her passion for spreading positivity. The thought of making a difference in someone's life is the reason Elizabeth continues to prosper as a leader. Elizabeth says "honestly, I do not know what my future holds and that excites me. All I know is that I will make a difference."
Seton Hall Career Highlights:
Competitively selected into the Buccino Leadership Institute
Competitively selected into Seton Hall University's Honors Program
President of the club Uplift SHU
Fellow at SKY Campus Happiness
Content Creator, Buccino Leadership Institute Strategic Communications Initiative
PirateThon Initiative Member
Intern for the New York State Assembly, District 97