"Success isn't about how much money you make, it's about the difference you make in people's lives." -Michelle Obama.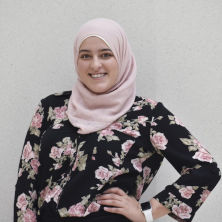 Dounia Omran is from the town of Woodland Park, New Jersey. She is someone who believes in giving back to the world and making it safer for the next generations. She enjoys spending lots of time with her large family and she loves to travel. She is a practicing Muslim and enjoys sharing her culture with the world and her family.
She came to Seton Hall because of its proximity, and because she saw the success of the school and wanted to be a part of it. She came for the prestigious speech pathology program. Dounia believes the best way she can give back to the world is by helping those around her, and the programs at Seton Hall are an amazing way to do that.
The Buccino Leadership Program at Seton Hall was especially alluring to Dounia as she wants to make sure that she can be a teacher who knows how to provide others with help and care. She wants to be a role model for all of the students she teaches in the future.
Her future is extremely bright. She said her future is all about "changing children's lives and making connections with as many people as possible." From changing the lives of children, to making strong connections that will create the next generation of leaders, she is already a very strong and capable leader. She currently is involved in the Muslim Student Association (MSA) at Seton Hall as well as the Leadership Program.

Seton Hall Career Highlights:
Competitively selected to be in first Buccino Leadership Institute cohort
Member of Muslim Student Association (MSA)