"I am so grateful to have been accepted into the Buccino Leadership Institute. Not only will this program give me the opportunity to grow as a leader, but also the skills and mindset to lead a life of success and confidence."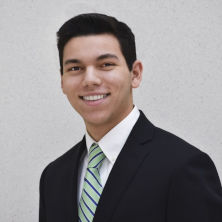 Domenico Cirielli, a future business leader of America, lives by the words of President Theodore Roosevelt: "Nobody cares how much you know, until they know how much you care." Throughout high school, Domenico demonstrated academic excellence as seen through his participation in National Honor Society, National Business Honor Society, and Spanish National Honor Society. In addition to his academic success, he was a member of his varsity soccer team and active with helping out in his community through IGNITE, his parish's youth group. Domenico's active involvement and dedication to his school work has helped him gained acceptance into the nationally-ranked Gerald P. Buccino Center for Leadership Development within the Stillman School of Business.
At Seton Hall, Domenico hopes to remain actively involved in his community. He has joined the Seton Hall Consulting Group, gaining exposure to the consulting field and real-world experience through Consult Your Community. Additionally, he was selected as blog writer for the Business Leadership Program's Social Media Initiative. He has also become an active member of DOVE, Division of Volunteer Efforts, at the university. Domenico has participated in intramural soccer and football, and he hopes to earn a roster spot on Seton Hall's Club Soccer Team in the future.
Domenico is highly motivated and driven. However, he considers his experiences with adversity to be essential to his development as an individual. In 2012, he and his family moved to Milan, Italy. The initial culture shock was significant, but once he overcame it, his perspective on life drastically changed. "Living outside of the United States was such an eye-opening experience for me. It's so easy to grow accustomed to a certain way of living and not even think about what else is out in the world. My experience living in Italy helped me realize the numerous opportunities that exist, granted we are willing to explore them. You have to be fearless and comfortable being uncomfortable."
Domenico is from Simsbury, Connecticut, where he lives with his father, mother, and little sister. Although choosing one's home for the next four years is a tough decision for anyone, Domenico always had a feeling that Seton Hall was where he was meant to go to school. "There are so many great schools out there. Oftentimes, individuals find themselves battling to get into these increasingly selective institutions. However, Seton Hall is different. It seemed like it was battling for me. They always say to follow your gut, and I could not be happier that I did."
Seton Hall Career Highlights:
Competitively selected to be in first Buccino Leadership Institute Cohort
DOVE
Seton Hall Consulting Group
Blog Writer for Social Media Initiative for the Business Leadership Program
President of Benchmarking Initiative for Business Cohort
Junior MBA Program Mentor for High School Seniors