"Being a leader means putting oneself in the disposition of others, wanting to the achieve a good for all, not just few. I aspire to become a servant leader through the leadership program, to learn the tools that allows a shared goal take place, to make a change in the world, and to help the most vulnerable in society."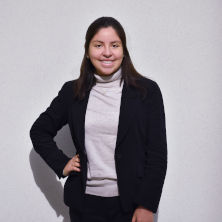 Daniela is a student at Seton Hall from Maplewood, New Jersey with a dual concentration in International Relations and Economics and a minor in Asian Studies. In high school, Daniela began her journey as a servant leader. She was part of a Syrian Refugee Club where she taught refugees English, as well as member of a Committee of Minority Scholars, which sought to provide an equal playing field in the academic school environment. Her volunteer work focused on teaching Spanish as a foreign language in elementary schools and included her service as Secretary of Key Club.
In 2015, Daniela moved to Maplewood, NJ, from Peru where she was born and raised. This change introduced her to new countries and cultures, sparking her interest in learning more about how they interact on an international level. After living in Latin America, she saw the existing disparities among these two hemispheres regarding human rights and sustainable economic development. These are now her areas of interest, as well as peacekeeping.
At Seton Hall, Daniela is not only actively engaged in her own academics but works as a student Research Assistant of DiploLab, a collaborative research space for its student members and faculty of the School of Diplomacy. On campus, she learned to use her inner voice and became an advocate for the student body. Through her former role as Secretary and current position as Chief Financial Officer of Adelante, Seton Hall's Latino/a student organization, Daniela promotes awareness and educates on all socio-cultural issues that affect the Latino and Hispanic community. Driven by her passion for inquiry and writing on global politics, Daniela joined the Diplomatic Envoy as a writer. Her strong commitment to such role led her to be promoted to the position of Digital Editor, which has allowed Daniela to further strengthened her writing, editing, and leadership skills. Aside from her academics and extracurricular activities, Daniela utilizes her bilingual skills and offers private tutoring for both English and Spanish.
While the leadership program is new, Daniela wanted to be one of the first to help it grow and prosper. She is currently developing a program for the Leadership Cohort of the School of Diplomacy that instructs on multiculturalism in leadership; Daniela believes being knowledgeable of other cultural norms and perspectives allows for a better team dynamic and effective communication when leading others.
From this program, Daniela hopes to get real world experience to help prepare her for her career, and advice from professionals in her fields of interest. She also seeks to gain excellent negotiation skills for her everyday life and the necessary tools to follow her path in mediating conflict. Due to her Peruvian background and deep interest in Chinese culture, in the future, Daniela strives to work as a Diplomat or Ambassador for the United States or Latin America in China and pursue peaceful relations between these regions.
Daniela describes leadership as "a way of life through which one becomes a powerhouse, one that radiates confidence and passion, making one's vision clear, and inspiring others into believing the unthinkable is possible." Ultimately, Daniela wants to take this opportunity to know herself better, to leader others and herself more effectively. As a first-generation immigrant, she now fights for her goal to work as a peacebuilder, and she believes this program will provide her with the necessary capabilities to do so.
Seton Hall Career Highlights:
Competitively selected to be in first Buccino Leadership Institute cohort
Chief Financial Officer of Adelante, Latino/a Student Organization
Project Manager of Diplomacy United Leadership and Communication Exchange (DULCE)
Writer and Digital Editor for the Diplomatic Envoy, School of Diplomacy Newspaper
Student Research Assistant for School of Diplomacy
2019 Joseph A. and Carmen Unanue Scholarship Recipient
Member of Women in Diplomacy
Volunteer tutor for Spanish learners