"The leadership program has not only taught me to be a better leader, but to be a better person as a whole, through the support of my directors and peers."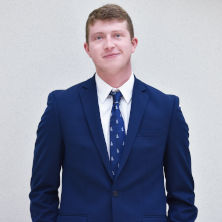 Before Connor started his journey at Seton Hall, he was successful throughout his high school career. He graduated with Highest Honors, and was a member on many teams and clubs. Connor became President of his class, Student Government President, Secretary of Future Business Leaders of America, and the team captain of his soccer, baseball, basketball, and tennis teams. He was also involved in multiple drama productions, and was a member of Best Buddies, National Honor Society, and the History Club. Connor's experiences and involvement during high school illustrate his dedication to be a leader.
Leadership is very important to Connor—in fact, it was what drew him to Seton Hall. He fell in love with the campus as soon as he stepped onto it, but "being accepted into the very prestigious Buccino Leadership Development Institute is what sealed the deal." He was excited to grow his skills, become more confident, and gain all the networking and internship opportunities available to the cohort. He hopes at the end of his time being in the Leadership Institute he will find a job in New York City that he loves doing.
Currently Connor is staying very active on campus, being a member of the Hall Street Fund, Seton Hall Consulting Group, DOVE (Division of Volunteer Efforts), and the College of Republicans. He also continues his love for athletics, and is involved in intramural flag football and indoor soccer. For his remaining time here, Connor would like to join a fraternity, join more leadership initiatives, partake in internships, and even start a Turning Point USA chapter at Seton Hall. In his future after Seton Hall University, he sees himself becoming an investment banker or working in wealth management in New York City. Connor believes the Buccino Leadership Institute will provide him "the possibility to be as successful as possible and prepare for the rest of life."
Seton Hall Career Highlights:
Competitively selected to be in first Buccino Leadership Institute cohort
Service on Saturdays