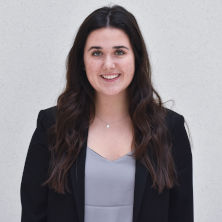 Colleen O'Keefe is a freshman in the College of Arts & Science's Leadership Program from Collegeville, PA. She ultimately chose to come to Seton Hall because of the campus' welcoming atmosphere. "I feel like I have so much support here at Seton Hall, and especially in the leadership program." In addition to her warm and friendly personality, Colleen was also selected to be in the leadership program due to the impressive things she accomplished in her hometown.
By using her budding leadership skills and her passion for service to the environment, Colleen was successful in creating a program for her local animal shelter, Forever Home Animal Rescue. Her initiative involved creating additional events in the shelter and allowed residents nearby to meet potential pets and take stress off the shelter's coordinator.
Colleen wishes to continue in acts of service here at Seton Hall and implore students to follow their passions as college is a time to have enriching experiences and to learn. Being in the leadership program has helped Colleen realize the importance of "putting yourself out there," and this lesson is one that she urges everyone to learn. "If you do this, your experience will be so much greater and with the leadership program, I know I'll always have support." She is hoping that being in the program will help her come out of her shell, view herself as a leader, and give her an opportunity to step up as a student and servant leader.
Seton Hall Career Highlights:
Competitively selected to be in first Buccino Leadership Institute cohort
Sister of Alpha Gamma Delta