"I ask that you walk with conviction, always, and acquire the confidence to say yes to opportunity, no matter how daunting because boldness to endeavor is required of great change."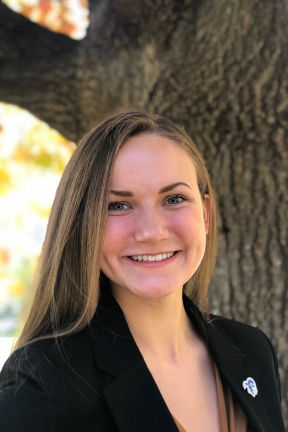 Clare is a confident, kind, and honest leader who always says yes to new opportunities. As an extrovert, Clare's upbeat, outgoing personality serves her well in helping others feel welcomed, included, and valued. She believes strongly in the power of inclusion, understanding the importance of acknowledging the unacknowledged, interacting with the ignored, and advocating for those who cannot advocate for themselves. Her younger brother, Harrison, influenced her decision to pursue special education. As an individual with mosaic Down syndrome, Harrison's journey through the educational system exposed Clare to the unique challenges the disability community experiences in both education and life. Her brother also inspired her to volunteer with various non-profits that serve the disability community: Camp Acorn, Miss Amazing, RallyCap, and Best Buddies. Those experiences reinforced Clare's decision to dedicate herself to empowering the disability community through advocacy efforts as her leadership abilities enable the potential to enact change through both allyship and activism. In 2019, Clare attended the World Down Syndrome Day Conference at the United Nations New York City Headquarters. Witnessing global support for the community she so admires energized her. She recognizes her duty to serve others, especially those who inspire her, like Harrison.
In the future, Clare seeks to pursue leadership roles in educational administration, higher education, or a non-profit. Clare plans to complete her Masters and Ph.D. in Educational Leadership from an accredited university so she can use her credentials to influence and empower others. Clare hopes to extend the same opportunities to others that she has received. She is incredibly thankful for the experiences and opportunities that have been afforded to her so generously through the Buccino Leadership Institute. Clare acknowledges her privilege in attending Seton Hall, where she has the community and support to grow as a leader while being surrounded by like-minded individuals who also strive to live in service to others. Clare would not be the person she is today without the influence of the mentor figures she has met through the Institute.
Through the Buccino Leadership Institute, Clare can express her confidence while being given the time, space, and encouragement to reflect in pursuit of self-growth to continue her journey of empowering others the same way she has been empowered.
Seton Hall Career Highlights:
Competitively selected into the Buccino Leadership Institute
Resident Assistant
Servant Leader Scholar for the Center for Vocation and Servant Leadership
Member of the Student Alumni Association
Co-President of Piratethon
Chapter Secretary of Best Buddies
Volunteer with RallyCap Sports
Ambassador for the College of Education and Human Services
Director of New Member Programs for the Alpha Gamma Delta Sorority