"Never be content with the boundaries you set for yourself. Test your limits, think outside the box, and take the necessary risks."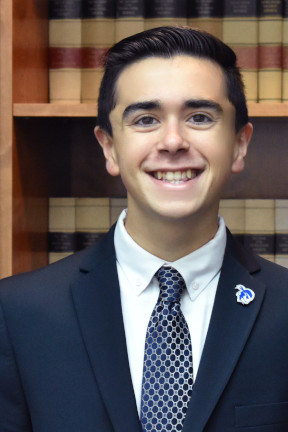 There is no better example of a person stepping out of their comfort zone to improve themselves as a person than Christopher Cusack. After years of battling social anxiety and overweightness as a young child, Chris had decided to stop wishing for change to come and start making it happen. He pushed himself to make friends, join clubs and organizations, and become the best version of himself. Eventually, Chris had overcome his tribulations, realizing his untapped talent of bringing group members together and leading them to achieve their goals. Through years of compassion and dedication, leadership became a skill constantly associated with Chris, as teachers and coaches revered Chris for his ability to lead a group while understanding each person's strengths and weaknesses.
When it came time to embark on his next journey and begin the process of applying to colleges, Chris believed there was no better suitor than Seton Hall. "It felt like home to me. My parents met here, I have been going to basketball games since I was a baby, and the campus was very close to where we live. Could it get much better?" For Chris, it did, as he learned about the Buccino Leadership Institute. Chris wanted to find a program that would sharpen his leadership skills and let him learn from experienced leaders. Chris committed to Seton Hall the moment he received notice he was accepted into the Buccino Leadership Institute, and that was when everything changed for him.
When it came to joining the Buccino Leadership Program, Chris had been ecstatic to get started. "I had been to many information sessions about the program and spoke to students about their experiences. Conversations with Dr. Price, Michael Reuter, and many students currently in the program helped me learn about what resources and connections would be available to me. I had been impressed by the robust curriculum and the core values, it felt like an honor to be accepted."
In addition to the Buccino Leadership Institute, Chris is a member of various other organizations at Seton Hall. He is a co-president for PirateThon, a charity organization collecting donations and raising awareness for the Valerie Fund. He is also the President of the Alumni Initiative within the Business Cohort, managing all events and connections with alumni of the Institute. Outside of the Buccino Leadership Institute, Chris is an executive member of the Pirates of Irish Persuasion and Extraction, an organization at Seton Hall dedicated to informing students about the Irish culture. He is also a member of the Sports Networking Student Association, an opportunity for students to connect with successful sports businesspeople. Next year, Chris plans to be an inaugural member of the Business Analytics Club, which will allow him to study data further. While Chris is heavily involved, he enjoys the opportunity to be involved in organizations of his interests and make connections.
Chris's professional goal is to be a wealth manager for professional athletes, which combines his two interests of Sports Business and Finance.
Seton Hall Career Highlight:
Competitively selected into the Buccino Leadership Institute
Co-President of Buccino Leadership Institute PirateThon Initiative
President of Buccino Leadership Institute Business Cohort Alumni Initiative
Executive Council member of Seton Hall Irish Club
Member of Seton Hall Sports Networking Student Association