"My experiences so far have been life changing. It's my first semester and already I feel like I'm a lot of steps ahead of my peers at Seton Hall and at other universities. They just don't have the same exposure and experiences we are already getting."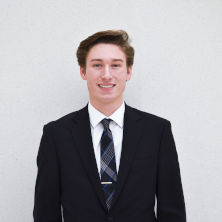 An emergent leader, a motivated scholar, and a baseball aficionado, Brenden Bechamps has a wealth of opportunities available for him to succeed in at Seton Hall as he develops himself into a stronger leader who is ready to serve others in the workforce.
Bechamps was excited to come to Seton Hall University upon hearing his cousin praise the university's nurturing and caring atmosphere. However, "once I read about the Leadership Program, it was just 100% 'I want to come here,'" Bechamps said.
Through the leadership program, he finds he has accelerated beyond his peers outside the program. Furthermore, he believes the program teaches him how to be a better all-around leader, how to work well with other people through the interdisciplinary aspect of the program, and how to guide people to success.
"A leader is someone who sets an example," Bechamps said. "A leader can be within the bottom of an organization, who just does the right thing all the time. It doesn't matter where you are, if you're leading by example and doing the right thing, you're a leader."
Bechamps' passion for baseball has driven his professional aspirations. "For my career, I want to work within an organization and study their player statistics and analytics," Bechamps said. "Hopefully, I'll work my way up the system and become a GM of an organization one day."
Outside of his studies, Bechamps is working to start a club baseball team. Additionally, he volunteered with Special Olympics New Jersey and is a on the public relations committee for PirateThon, a 12-hour dance marathon fundraiser in February to raise money for the Valerie Fund, a local nonprofit that supports children with cancer and blood disorders.
Beyond these activities, Bechamps also writes international news for the business school's paper, the Stillman Exchange, and was competitively selected as a member of the Business Leadership Program.
Already engaged on campus as a freshman, Bechamps said, "I'm proud to be starting my career and to be a part of the Leadership Program."
Seton Hall Career Highlights:
Competitively Selected into the first Buccino Leadership Cohort
Pirate-Thon, Co-President
Stillman Leadership Program in the Buccino Leadership Initiative
Stillman Exchange
Creating Club Baseball