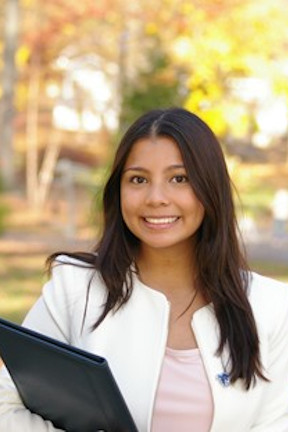 "A good leader manages to show others his/her defining attributes, whereas a great leader is able to inspire and encourages others to exhibit those very qualities."
As a recent transfer, Arianna knew that Seton Hall University was the right choice for her. Its welcoming students and staff, countless internship opportunities, and of course, the school's commitment to producing some of the greatest, influential leaders inspired her to attend Seton Hall. For Arianna, "the skills necessary to be a great leader are not something that can just happen miraculously, but rather require continuous learning, drive, and perseverance – no great leader just happens to emerge without time, commitment, dedication, and drive." As a first-generation college student, she is enormously grateful for this opportunity to attend a school as prestigious and rewarding as Seton Hall. She has always known that college would allow for her to develop the necessary skills and characteristics to turn herself into a great leader. It would allow her to truly enhance her knowledge, expose herself to different ideas and people, and ultimately, enable her to grow as a person.
In just a short amount of time at Seton Hall, Arianna has found herself growing tremendously as not only a person but also a leader. The staff and community are always committed to finding ways to help her succeed in any way they can. "To say that the Seton Hall community is a family is an understatement." If you are ever looking for someone eager and always willing to get involved, Arianna is the prime candidate. She seldom refuses an opportunity to immerse herself in activities or projects on or off campus. During her first three months, she has completed the College of Arts and Sciences Business Bootcamp, joined the Buccino Leadership Student Council, where she is acting as an undergraduate representative and has been working towards devising a plan for a new initiative: the Advisory Council Initiative.
She looks forward to the next two and half years at Seton Hall that will expand her network, continuously challenge her, and mold her into becoming a great leader. Every day, she is pushed to become a better leader and person, as her peers and the staff refuse to let her settle than anything below her full potential.
Seton Hall Career Highlights
Competitively selected as a transfer student to be the Buccino Leadership Institute
Undergraduate representative for the Buccino Leadership Student Council
Active member in the Advisory Council Initiative
Carefully chosen for the College of Arts and Sciences Business Boot Camp