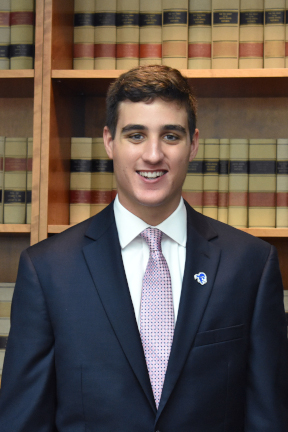 "The best leaders recognize that they do not know it all so they must strive to learn, develop, and improve every day."
Andrew Youngberg knew that attending Seton Hall University would provide countless opportunities for him. This belief was amplified after he was competitively selected into the award-winning Buccino Leadership Institute's Business Cohort. When visiting and touring the University, Andrew, a legacy, was very impressed with the Business Cohort. The opportunities for networking with business executives and industry leaders along with prospects for internship programs is something that no other University can match. Andrew enjoyed meeting the Business School faculty and liked that many are industry leaders. Andrew plans to work in Investment Banking after graduation and Seton Hall's proximity to New York City was another bonus.
Andrew got involved in University life immediately. Andrew enjoys working as a Portfolio Manager for the Seton Hall Student Managed Investment Fund, where he interacts with students of similar interests while learning and contributing to the investment decisions of the fund. He is also a member of the Executive Board of the ALPFA Business Club. In this position, Andrew helps students in the Stillman School of Business and across the University learn about career options and develop crucial skills. Andrew is also a contributing writer of Pirates Providing Parity- a weekly Financial Markets Newsletter. Andrew likes sharing his knowledge and opinions with the readers. Andrew is a Brother of Alpha Sigma Phi, where he hopes to take on a leadership role. Andrew believes strongly in giving back to the community and making a positive difference in the lives of others. He is a volunteer within the Team Walker Initiative and a recognized volunteer at the Montgomery Township Food Pantry and Montgomery Township Senior Center.
Andrew is intrigued by the financial markets and likes to work hard and challenge his knowledge and skills. Since May of 2020, he has worked as an Analyst for a boutique investment banking firm where he can utilize his technical knowledge and leadership skills. He has worked on many live transactions, performing various types of financial modeling, writing, and publishing investment materials, and assisted in the marketing of deals to institutional investors.
Andrew looks forward to continuing to learn and grow by taking advantage of all the opportunities the Buccino Leadership Institute has to offer.
Seton Hall Career Highlights:
Competitively selected into the Buccino Leadership Institute
Portfolio Manager for Seton Hall Student Managed Investment Fund
Executive Board Member of the ALPFA Business Club
Contributing Writer of Pirates Providing
Parity Brother of Alpha Sigma Phi Fraternity
Member of Team Walker Initiative