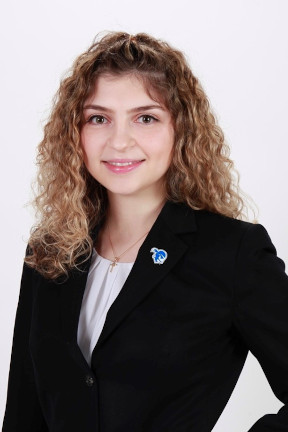 "I believe that a good leader should lead by example, with the utmost integrity, character, and accountability."
Amanda Neilsen is a student at the College of Education and Human Services, competitively selected into the Buccino Leadership Institute at Seton Hall University. Amanda chose Seton Hall to take advantage of the unique dual degree speech-language pathology program. She is working towards an undergraduate degree in elementary and special education and an undergraduate degree in English. After finishing her undergraduate studies, she plans to get a master's degree in speech-language pathology at the School of Health and Medical Sciences. "I chose this program because I know that my success as a speech-language pathologist will be enhanced by becoming a good teacher first." 
Amanda was nominated by faculty members to serve as a student ambassador for the College of Education and Human Services. In this role, she further develops her leadership skills by speaking with prospective students and their families at open houses and other events. She is also a member of the Kappa Delta Pi Education Honor Society, the NJ Student Education Association, the National Student Speech Language Hearing Association (NSSLHA), and the American Sign Language Club.
Amanda loves the sense of community that she feels at Seton Hall and is involved on campus as a member of the Seton Hall Pep Band and the Seton Hall Concert Band. She is also a member of Kappa Kappa Gamma, a sorority on campus whose core values are based on scholarship, leadership, and friendship. "I believe strongly in these core values and was also drawn to this sorority because of their philanthropy. Kappa helps underserved children discover the joy of reading through a partnership with Reading is Fundamental." Amanda uses her leadership skills as a member of the Kappa Kappa Gamma recruitment team.
Community service sparked Amanda's passion for helping others. "My various experiences working with children and seniors have made me realize that I want to make a difference in peoples' lives." Amanda is excited to use her leadership and interpersonal skills in her future career as a speech-language pathologist. She has a sincere desire to help others and a compassionate and caring nature. "I am thankful for the opportunity to develop my leadership skills at the Buccino Leadership Institute. I have learned that leadership is a way of life, and that good leaders listen as well as lead. As a future leader, I hope to inspire others through my passion, commitment, and positive attitude."  
Seton Hall Career Highlights:
Competitively selected into the Buccino Leadership Institute
College of Education and Human Services (CEHS) Ambassador
Kappa Delta Pi Education Honor Society
Member of the NJ Student Education Association
Member of the National Student Speech Language Hearing Association (NSSLHA)
American Sign Language Club
Seton Hall Pep Band
Seton Hall Concert Band
Kappa Kappa Gamma sorority