Allyson McCormick
Finance major
Vineland, New Jersey
"Being a part of the leadership program has already brought me several opportunities. Not only has it allowed me to meet other freshman, but I have also been able to meet with successful people in the business world who have offered me advice. In a meeting, an executive told me 'if you think you can, or you think you can't, you're right' and I think that is the biggest inspiration that has stuck with me throughout my journey so far."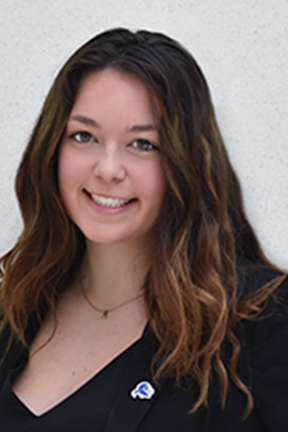 Growing up in Vineland, New Jersey, Allyson McCormick made an impressive impact on her community by leading a massive service project called "Project Linus," which helped a classmate who was battling cancer. When it came time for choosing a college, she immediately was captivated by the Catholic community at Seton Hall, as well as the outstanding reputation of the Stillman School of Business. She she is interested in pursuing a career in finance.
Allyson was also very happy with the distance that Seton Hall is from her home in Vineland, and the proximity to New York City, which allows her to pursue numerous internship opportunities in the future. During the summer of 2018, Allyson was accepted into the Buccino Leadership Institute, which has placed her in the presence of the university's top leaders who have already given her outstanding advice on improving her leadership skills. In terms of goals for the program, she hopes to build a solid network of mentors and classmates who will aid her in the future.
Along with her success in the classroom and in the Buccino Leadership Institute, Allyson is also very active in numerous clubs on campus, including Piratethon and the Hall Street Fund. She is also eyeing a future in one of the many sororities found here at Seton Hall. Allyson is also interested in pursuing an internship in New York City that is centered around finance or work for the United States Securities and Exchange Commission (SEC).
Seton Hall Career Highlights:
Competitively selected to be in first Buccino Leadership Institute cohort
Pirate-thon
Hall Street Fund