Aidan Kelly
Finance major
Lincroft, New Jersey
"There may be people that have more talent than you, but there's no excuse for anyone to work harder than you do. – And I believe that" – Derek Jeter.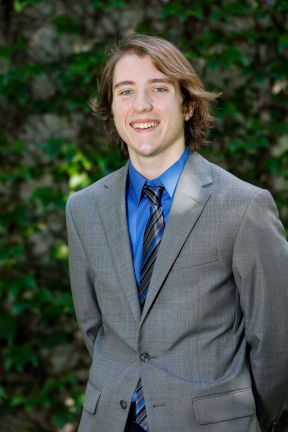 Aidan went into his life at Seton Hall with a copious amount of question marks. He changed his field of choice from engineering to business after attending High Technology High School in Lincroft, New Jersey, the number one STEM high school in the country for 5 years running.
In high school, Aidan balanced having multiple jobs and handling a difficult workload. On top of this, Aidan gained leadership experience by leading projects. These experiences include conducting his own scientific research testing the effectiveness of Easton's "Torso-Tection" in preventing serious heart injuries in children, as well as building and creating the "swing stopper" with current MIT and NJIT students. Aidan and his team would win the "Provisional Patent Award" for their efforts.
Aidan is currently studying Finance at Seton Hall's Stillman School of Business. Aidan decided to enroll in the Buccino Leadership Institute and subsequently Seton Hall after hearing Director Emeritus Mike Reuter give a speech while on tour. "Mike spoke about the idea of your perfect school feeling like walking into your first house. It should give you a warm embrace that makes you feel happy, and that's how I felt when I visited Seton Hall."
While attending Seton Hall, Aidan is extremely involved both inside and outside the institute continuously trying to improve himself and those around him. As a freshman, Aidan was one of our Interdisciplinary Team leaders. He and his team assessed the brand of the institute and presented their findings and suggestions to the directors of the Institute. Outside of the Institute, Aidan is a member of the University Honors Program where he can use his mind in a different way studying topics that are not covered in a traditional business curriculum.
"One of my core beliefs in life is that the more one pushes themselves to succeed, the more likely they actually will. Seton Hall and the Institute have allowed me to do this in spades." Aidan has gained a wide variety of experiences outside of the traditional classroom space one cannot find anywhere else. He escaped his comfort zone by speaking with C-Suite executives at various companies to learn how they think and see the world, participated in workshops that challenge his thought process, and continuously improved himself independently thanks to techniques learned through the institute.
Aidan is excited to see what lies ahead of him at Seton Hall and beyond. He believes that the resources and lessons given to him through the Institute are invaluable and will help him after he graduates. "I came into Seton Hall with a lot of question marks, but the Seton Hall Community and the Institute, in particular, made me feel right at home."
Seton Hall Career Highlights:
Competitively Selected to the Buccino Leadership Institute in the Stillman School of Business Cohort
MCVSD Provisional Patent Award Winner 2020
Educational Opportunity Program Scholar and Peer Mentor
Hall Street Fund Member
PirateThon Initiative Member