Office of International Programs Honored at Men's Soccer Match
Friday, September 16th, 2022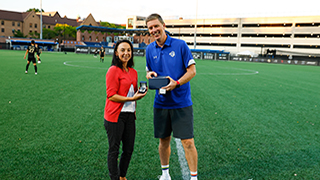 Maria Bouzas being honored pregame by men's soccer Head Coach Andreas Lindberg.
On a crisp September evening, the Seton Hall Pirates men's soccer team kicked-off against Army West Point on-campus at Owen T. Carroll Field in a celebration for International Student Night. Seton Hall Athletics honored the Office of International Programs (OIP) before the match and students participated in an on-field soccer skills challenge at halftime.
The student body of Seton Hall University is represented by 48 countries from around the globe. The Office of International Programs (OIP) supports students to realize their dreams of an international education, whether it be studying abroad or coming to the U.S. from abroad. Specifically, they assist students in navigating the study abroad process or international student visa process.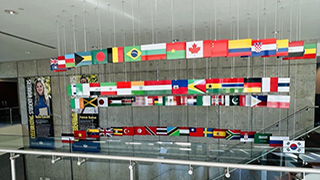 The Office of International Programs is now located in Jubilee Hall, Rooms 231-234.
"OIP assists students to navigate the visa application process for the F-1 international student visa of the J-1 exchange student visa. We assist students to maintain their visa status throughout their academic program and after graduation. For example, we assist them in obtaining work authorization, an SSN, driver's license, etc.," said Director of International Programs/PDSO/RO Maria Bouzas-Sbrigato, M.A. '12.
Increasing Seton Hall's ability to serve both international students and encourage students to become impactful global citizens is rooted in the University's strategic plan, Harvest Our Treasures, and in the Office of the Provost's plan, Seeds of Innovation, to provide new space in Jubilee Hall and resources for Office of International Programs and for English as a Second Language.
"We would love higher participation from international students at our events. It's a great opportunity for them to meet each other and make connections. Also, any American students interested in meeting students from around the world are also welcome to come to events and meet our international student population! OIP also now has a Global Commons, located on the first floor of Jubilee Hall, 133-134, where students can find tables and chairs for studying and socializing as well as a lounge space, which hosts ESL classes, events and free social time between students," noted Bouzas-Sbrigato.
The Seton Hall Pirates Men's Soccer team is comprised of a diverse group including student-athletes from Malta, Argentina, Germany, England, France, Finland, Israel, Italy and represented by multiple Swedes including Head Coach Andreas Lindberg. The team plays their home matches on-campus at Owen T. Carroll Field and are free to attend. Click here to view their schedule for remaining games and promotions.
Categories: Athletics, Campus Life, Nation and World