History Major Presents Research at Prestigious Workshop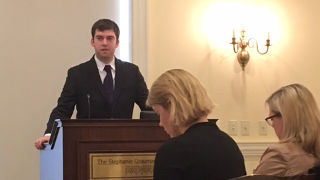 On Friday, April 20, Seton Hall history major, Sean Lorthioir, participated in the McNeil Center for Early American Studies tenth annual Undergraduate Research Workshop at the University of Pennsylvania. One of a select number of students chosen from among the McNeil Center's member institutions, Lorthioir had the opportunity to present work drawn from his senior thesis, a study of the Native American leaders Tecumseh and Tenskwatawa.
During the workshop, Lorthioir offered a formal presentation of his research findings as part of a panel of students and received feedback from a McNeil Center research fellow. He also fielded questions from the audience and engaged in wider conversation about his project during the day-long seminar.
Reflecting on the experience, Lorthioir never thought that he would find himself "delivering a formal presentation to an academic audience" that included some of the most prominent scholars in the field. He commented how this chance "to engage with an audience of scholars with similar interests and passion," helped him recognize the value of his education and "reap the rewards of my past four years of study."
Sean Harvey Ph.D., associate professor of history, who served as Lorthioir's thesis advisor this past year praised Lorthioir for his hard work and dedication. "He diligently searched for accessible primary sources, including official communications related to Indiana Territory and Shawnee ethnographic materials, and has interpreted this evidence with great sensitivity," Harvey commented. He also noted how back in February, Lorthioir attended a McNeil Center seminar and was one of only two undergraduates in attendance to ask a question of the presenter. "Two different people wrote to me to mention how impressed they were with him," Harvey added.
In addition to serving as Lorthioir's advisor, Harvey was one of the faculty members who encouraged Seton Hall to join the McNeill Center consortium. Among the many benefits of membership that Harvey sees, the undergraduate research workshop provides "unparalleled opportunity for undergraduates to benefit from the mentorship of rising stars in the field and to network with other undergraduate researchers from a variety of prestigious colleges and universities."
Lorthioir also noted that the personal connections he developed with other attendees and the overall experience at the McNeil Center "has better prepared me for the professional world." In the fall, Lorthioir intends to continue his studies in law school.
For more on the history department, visit https://www.shu.edu/history.